NEW: Our Bloomin Friends - April Showers Bring May Flowers
earthlydelights
(6 pushing 7)
March 27, 2009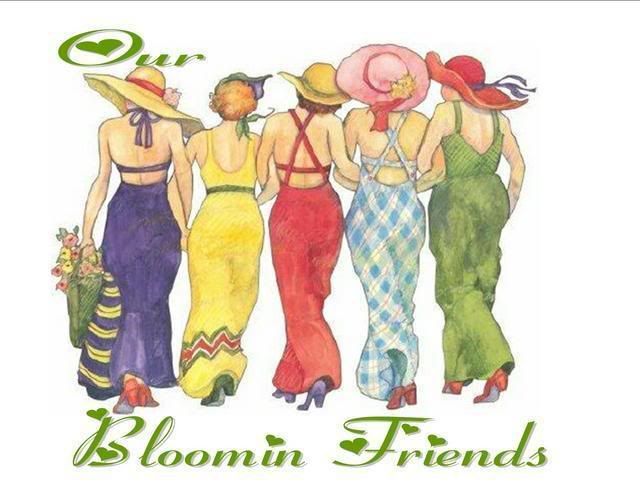 o0o0o0o0o0o0o0o0o0o0o0o0o0o0o0o0o0o0o0o0o0o0o0o0ocolor>
Our Bloomin Friends Friendship Swap Group was created to have a
reliable, fair and safe haven to swap and trade between the group members.
If you care to join us, we would love to have you. Please be a successful member of garden web and have had a trade with two or three of our members. Membership requests should be directed to veeja/carol or shirley/brittneysgran.color>
o0o0o0o0o0o0o0o0o0o0o0o0o0o0o0o0o0o0o0o0o0o0o0o0ocolor> APRIL SHOWERS BRING MAY FLOWERS
Spring is definitely in the air, a time of renewal; plant new beginnings; relax and enjoy the show Mother Nature has in store. The price of admission to SpringÂs spectacular show is of course a shower or two, or three, or four. To that, our swap this month will fit into the *~*SPRING*~* category. Seeds - to be planted in spring to be appreciated in fall
Plants - flowering, vegetable, bulbs, or a combination of them all. An extra "twist" would be any plant that represents water - rain lily, lily of the nile, pitcher plant - or pond plants. AprilÂs flower is the daisy and May is Lily of the Valley. (you get the idea)
- something to represent water ~~ a sprinkler, gauge, watering can,
hose nozzle, bottle spritzer
Imagination - A little something that makes you smile, laugh or just feel happy for no reason at all. A garden flag; garden sign; ornament or book. Perhaps something fun like a game; jigsaw puzzle; book or playing cards for those rainy days that just canÂt be avoided in April - the possibilities in this category are endless
Nice springtime treat. Treat does not always have to mean junk food or chocolate. It could be jam, jellies, syrups, waffle mix, or perhaps something representative of your geographical area that your partner wouldnÂt normally have access to unless they were a tourist to your state.
Green - Anything goes in this category, which really says "plants" The Bunny is going to hop on in and co-host this month with me. FebruaryÂs weather was non-to-kind to her and her focus was better off elsewhere. Now that sheÂs back in full swing, we are going to work together to make this yet another fun month for all our OBF gal pals. In addition to the swap, we will run some games throughout the month. Whether you swap this month or not, everyone is always welcome to participate in the games!
We hope you can join us. Please sign up by April 5th. Partners will be matched by April 6th and all boxes should reach your partner by the latest, April 25th.
We are looking forward to your participation, either by way of swapping, or just stopping by to say hello and participate in the games.