Cucumber Mosaic?
sic_transit_gloria
(z5 KS)
May 17, 2006
Well, the onset of this ailment is MUCH earlier this year. I have four pictures to share, one from last year, which shows what this malady looks like in its more advanced stages. This year my plants have been out less than 1 month and it's set in.
The one thing I wonder about is Daconil. We had a super wet spring and my plants began to get septoria leaf spot. I sprayed with daconil, following the directions, and not long after this condition arose. Simiarly, last year I sprayed with Daconil and this problem arose. I suppose it seems obvious that it could be the daconil, but I only used 1 tablespoon, diluted it with the prescribed amount of water and then hooked up the hose and sprayed. I couldn't even see the white residue, so I know it wasn't too much.
Anyway, here are the pictures:
This shows the bending back of the top branch. This is happening on a couple of plants.
This is showing the beginning of the leaves curling up and the stunted nature of their growth. They develop a sort of heavily serated edge too and are very dark green.
More of the same.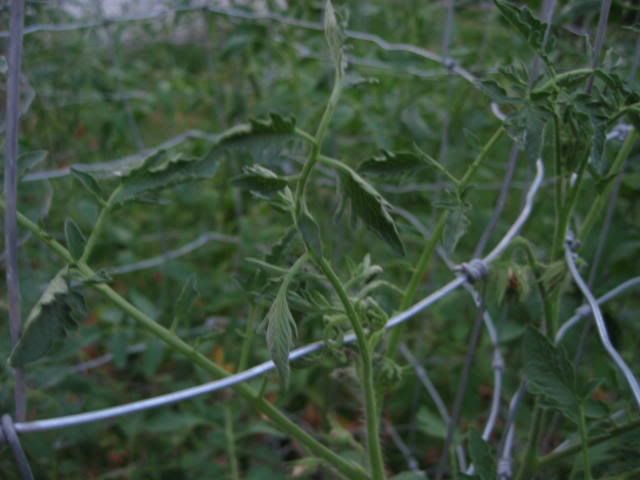 This shows what it was like last year. Notice the bending back of the branch onto itself, twisting.
Only the new growth is affected. This is also why I doubt the daconil is the problem. Only new leaves that emerge seem to suffer and they have a very stunted appearance, curl upwards, and are severely serated. They also appear to be very densely bunched when they emerge, sort of balled up.
There is a walnut tree nearby. I did fertilize with a granular form, but nothing different than years past. I don't know what this is, but it's very disheartening. I would appreciate any help.
Jason