NEW: New: I.E. Heritage Heirloom Swap
This is the last "Incredible Edible" swap until November. I am sure many of you have already been planting your gardens. Here in Eastern Washington are just beginning to think about planting early spring crops.
All heirloom seeds are open pollinated which allows the gardener to collect seeds from this year's crop for planting the next year. If you are not sure if your seeds are heirlooms, please look them up on the internet before sending. If the seed package says F1 on it, they are hybrids. DO NOT SEND hybrids or GMO seeds.
DETAILS OF THIS SWAP:
1. Swap open to United States residence only.
2. You may send as many packets as you would like but not more than 3 of any variety. As an example, please do not send all squash seeds and not want any squash seeds in return. It's not fair to the others since they will be getting lots of squash and not a variety.
3. Please send your seeds in a bubbler mailer. I will reuse the envelope to return your seeds to you.
4. Make a list of the seed varieties that you are including. Makes the sorting easier and please be sure to put your gardenweb name on the packets so you won't get them returned to you by mistake.
5.Please include a wish list but this depends on what is sent in. Seeds should not be older than 2012 and they can be commercial or from your garden.
6. The deadline for signing up for this swap is April 15th and seeds need to be mailed by April 20th. I will try to have the seeds sorted and on their way back to you by the first week of May.
7. In your bubble mailer include:
...your seeds for the exchange
...A label with your return address
...Enough postage to get your package back to you plus a little extra for added weight of beans, etc.
...A list of the seeds you are sending
...A wish list
...Extra money for delivery conformation is you want this
After signing up remember to send me an email asking for my address. In the email please include your full name, mailing address and GardenWeb name.
OK! Are you ready to join the swap? Who wants to be first? You know you wanna! We all love to eat so let's start going through our boxes to see what to send.
Ellie
The picture below was taken last September at the National Heirloom Expo at the Sonoma Co. Fairgrounds in California. Love that pile of squash. Picture is of Gere, Emilee, Sasha Gettle from Baker Creek Heirloom Seeds and me.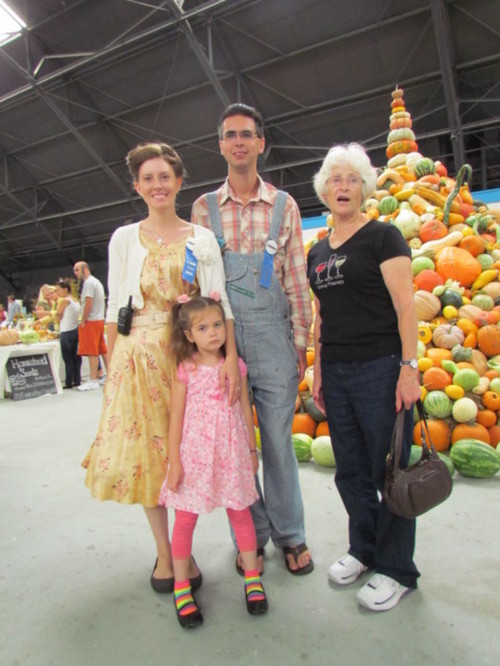 This post was edited by farmergirl2009 on Sun, Mar 31, 13 at 20:36