Atypical leaf yellowing - help!
I'm having a problem with my tomatoes, the leaves are turning yellow and dying. Yellowing begins concentrated in the middle of the plant. New leaves seem to not get it quickly as quickly as lower leaves. Over 2 weeks, progresses to cover and kill entire leaf. The yellow starts on the top, and eventually comes through to the bottom. There are no obvious mold spores, or dark spots... just a silvery-yellow that turns to nearly white when they die. Full growing details below.
Given all the background below, I'm apt to think it's a temperature or moisture problem, but then why doesn't this happen to everyone in Seattle? If it is a mildew or moss? Maybe it doesn't happen inside because it is warmer and drier, and the plants can resist? Some kind of transplant shock?
DETAILS
Location: Seattle, WA
Mix of heirloom and early varieties from territorial seed, purchased as starts, ~6"
Planted mid april, kept in indoor room with good light... greenhouse, almost.
Soil: Miracle Gro Potting Mix
All grown indoor til about June 1. Heights varied from 24-48".
Plants seemed very healthy.
3 tallest plants put outside, ~June 1, developed the yellow leaves about 3-5 days afterwards.
Outside temperature: 50-65F.
Rain 50% of days.
Site gets no morning sun, but full sun from about noon til sunset.
Did not harden off by putting out during days.Yellowing occurred before these were transplanted from 12" pots to 24" pots.
Next 5 plants put outside, immediately transplanted to larger pots, same soil.
These plants also developed this yellowing thing in ~2-3 days.
It seems like the question is weather the new growth can outpace the progression of the yellow.
This happened last year. Treated with neem oil spray (wild guess, powdery mildew?), seemed to improve, but maybe just the warmer weather?
As a test. I tried taking a sucker that is yellow, and rubbed a couple plants which were still inside. The inside plants DID NOT develop the yellowing.
All varieties, heirloom (japanese black trifle, zebra green) and early (korlick, ...) , are susceptible, approximately equally.
Image link: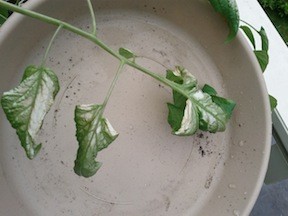 Here is a link that might be useful: Pictures on facebook