Novice Gardener, Tomatoe, spots on leaves
I have various tomato plants at different stages of growth. Some of the younger plants have some spots developing on the leaves. Since I check the plants every day, These are just appearing in the last day. Not all of the plants have these, only a few. I did spray a Pyrethrin based spray on some of the plants to ward off insects that were all over my cucumbers. The cucumbers are doing great so far.
I will include two pictures of the plants, I hope they help.
Thanks to all the experts who help us novice gardeners.
I did search the FAQ, and read through many messages, but no luck in this exact problem in the first 5 pages of reading.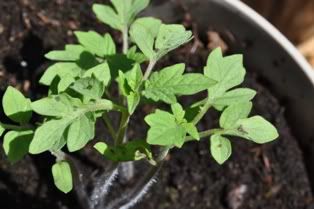 Joe