new: obf april easter eggs and lily surprise swap
amybabyboy3
(Georgia)
March 20, 2007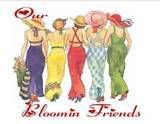 Our Bloomin Friends Friendship Swap Group was created to have a reliable, fair and safe haven to swap and trade between the group members. If you care to join us, we would love to have you. Please be a successful member of garden web and have had a trade with two or three of our members. Membership requests should be directed to veeja11/carol
WELCOME OUR BLOOMIN FRIENDS TO OUR NEW APRIL SWAP!
LET'S HAVE A LOT OF FUN WITH OUR APRIL SWAP. WE WILL DO A COMBINATION APRIL EASTER EGGS AND LILY SURPRISE. YOU CAN HIDE GARDENING GOODIES IN EASTER EGGS SUCH AS FERTILIZER SPIKES, SEEDS, GIFT CERTIFICATE, BULBS OR OTHER GARDENING SURPRISES. PLEASE INCLUDE A LILY SURPRISE EITHER PLANT OR BULB FOR YOUR PAL.
USE YOUR IMAGINATION AND YOU WILL COME UP WITH SOME WONDERFUL EASTER IDEAS.
THIS IS MY FIRST TIME AS A HOSTESS. PLEASE BEAR WITH ME IM JUST A BEGINNER.
FINAL SIGNUP IS APRIL 3RD AND PACKAGES MAILED OUT BY APRIL 25TH. PLEASE SIGN UP EITHER AS PLAYING OR NOT PLAYING. PLEASE FEEL FREE TO POST A WISH LIST.