Spotted yellowing leaves? Pics
Hello,
Thank you to all the contributors on this forum. The information shared here has been invaluable in my efforts to start a garden.
I plan on putting out some early tomato plants (Big Beef & 4th of July) in a poly tunnel in March. I live in North East Oklahoma, zone 6b. My seedlings have been growing well under lights but some of the leaves have started yellowing with small dark spots. Also, the underside of the leaves have started turning purple. I suspect this may be the result of too much moisture but wanted to see if anybody thinks this may be some other problem.
I started the seedlings in a Jiffy Tomato Greenhouse and potted them up into plastic 2-liter bottles. At that time I sprinkled a little Plant-tone around each plant and thoroughly watered them until the excess water started coming out of the drain holes I poked in the bottom of the bottles. I did not water them again for 10 days and this time I did not add any fertilizer. After the second watering I noticed the next day that mushrooms started growing in the soil. And now a few days later the yellowing of the leaves with spots has started. I slid the plant and soil plug out of the 2-liter bottle a little and noticed that the soil was very moist but not dripping wet.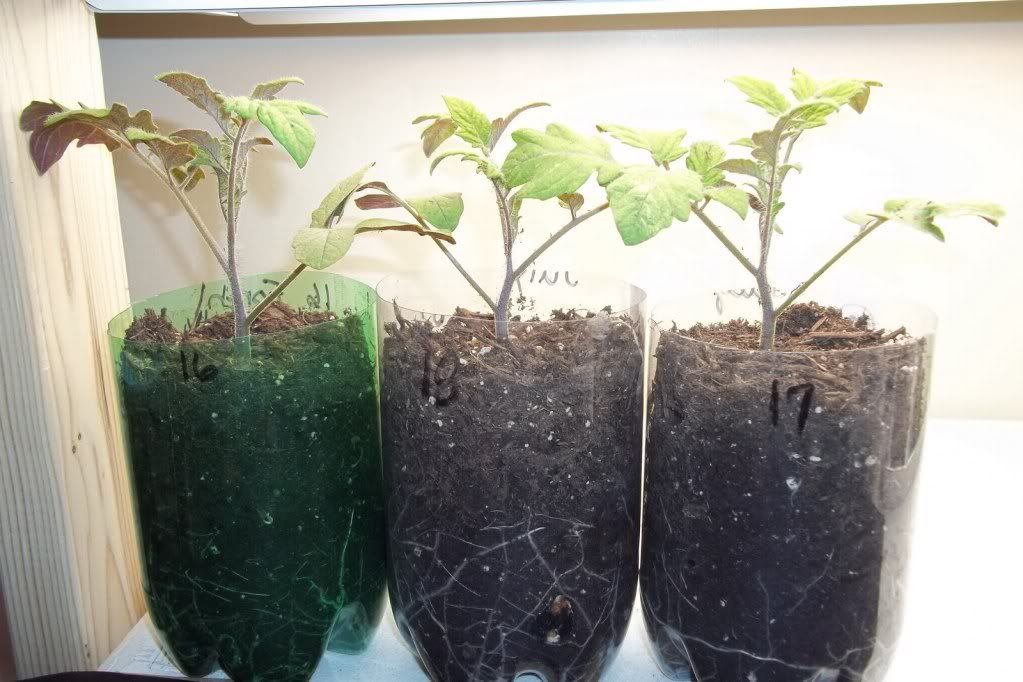 To remedy this I potted up the plant most afflicted with yellowing a second time, this time to a gallon milk jug with no watering. I hope the new, surrounding soil will pull out any excess moisture. The plants have lights and a fan on for 16 hours each day.
I would appreciate any advice on whether I am on the right track.