Baby F-1 Hybrid Ramapos Popping
thebutcher
(6b (Philadelphia area))
March 19, 2013
After 4 and 1/2 days, my baby Ramapo F-1 Hybrids from Rutgers started to come alive with my trusty old GoPro HD camera taking a time lapse for several days. I used an old PC to generate more heat while the Jiffy dome covered them.
I took the cover off the Jiffy dome today because 3/4's of them started to pop and putting it on and off at intervals. To the left is the 4th of July Tomatoes (not shown but they have also popped...I will post them soon). I will cover them tonight half way. I hope to deliver a nice time lapse on their progress on this thread.
Also as some may know I am a first time seed starter and 2nd year grower, so my methods may not be correct but I am having a blast.
I am also looking for suggestions and advice since I am a novice. I purchased a 2ft' Hydrofarm grow light which they will be under very soon and plant o transfer them into red party cups with holes in them ect..(I will put espoma organic potting mix which I bought yesterday unless there is any other suggestions ?)
Thanks all in advance for any advice.
Best - Mr. Beno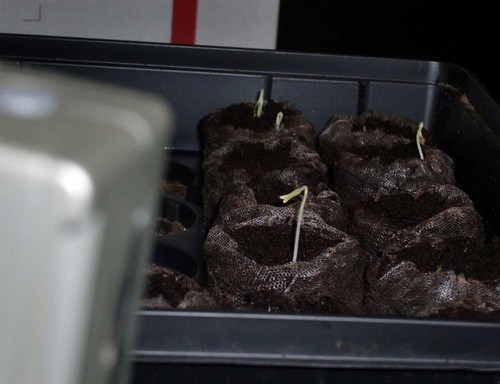 This post was edited by thebutcher on Tue, Mar 19, 13 at 20:03