Mangoes of Hawaii
Hello everyone, I just got back from a trip to the Big Island of Hawaii. Of course while I was there I had to sample the local farmers markets and made sure to try out some of their mangoes.
The island is absolutely loaded with mango trees, with most of them being the so called "Hawaiian common mango", which I believe is some variety of Turpentine. The most common named variety is unsurprisingly Haden (always spelled 'Hayden' over there), but they have a number of their own unique varieties not found in Florida, where many of us mango enthusiasts live.
I tried about 5 named varieties that are not found in Florida (these I got from a knowledgeable grower):
Sugai - small yellow fruit, shaped and looks like turpentine. Was told it would be fibrous but wasn't bad, had a typical sweet flavor...probably some kind of turpentine cross.
Mapulehu - shaped just like a Zill mango with the distinctive pointed beak, relatively small size and color is yellow/orange. Taste is like a cross between a Glenn and a Jakarta...somewhat insipid like Glenn but a detectable resinous flavor reminds me of Jakarta. No fiber in flesh
Momi K - shaped like Haden, tastes like a Zill mango. No fiber
Pope - this one actually originated in Florida. It was bright red one side and green on the other, and shaped like a Kent with similar size. Texture and flavor was very similar to Haden.
Kurashige - kidney shaped and orange color, medium size. Flesh was pretty fibrous but flavor was very rich and sweet. May have had the best taste of the named varieties.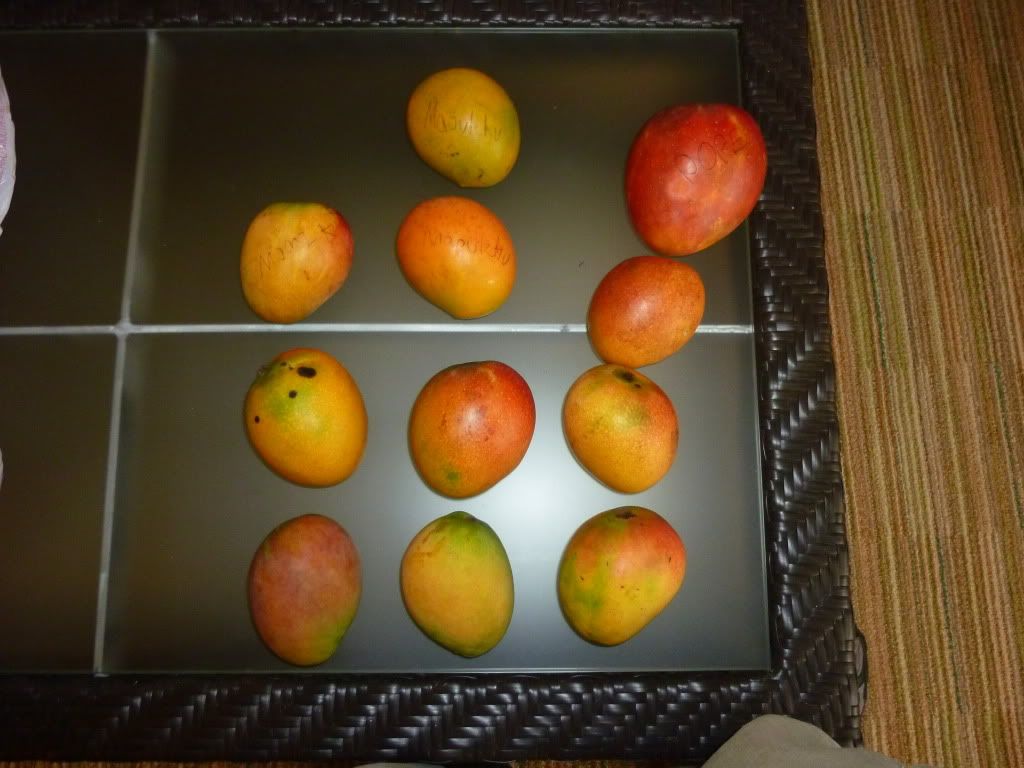 Top row (from left): Mapulehu and Pope
2nd row: Momi K, Mapulehu, and Haden
3rd row: all 3 are Haden
4th row: these were mangoes from a basket marked as Hadens by their sellers, but were obviously not Haden (this seemed to be a common theme at the markets there). I bought them anyways. Pretty sure the 1st one was Edward and 2nd Carrie, no clue on the 3rd. All were very good.
Ate the Sugai and Kurashige before I took the picture.
Also adding a link to a poster that shows some of the mango varieties on Hawaii:
Here is a link that might be useful: