Wrapping my Mangoes...
puglvr1
(9b central FL)
May 17, 2011
Thanks to Trini for posting her pictures of wrapping her mangoes...I thought I would try using aluminum window screen instead since I already had a roll in the garage. I also thought I would try "sewing" mine instead of using a stapler since I'm out of staples and don't want to go to HD! Sewing them was surprising easy and much quicker than I thought...I just have to cut several more...Here's a couple that I wrapped to show you guys...I certainly hope it works!
Here's a picture of my very first cogshall starting to color up nicely. I'm wondering if I should pick it today? It also a lot earlier this year...I just checked my pictures from last year and my first Cogshall from my other tree didn't start getting color till June 17th...a full month early! Do you guys think I should pick it today or wrap this one and hope for the best? I'm trying to prevent them from tasting even one...because once they do...ITS ALL OVER!
Pick it or wrap it? That's the question...
Here's a couple I wrapped today...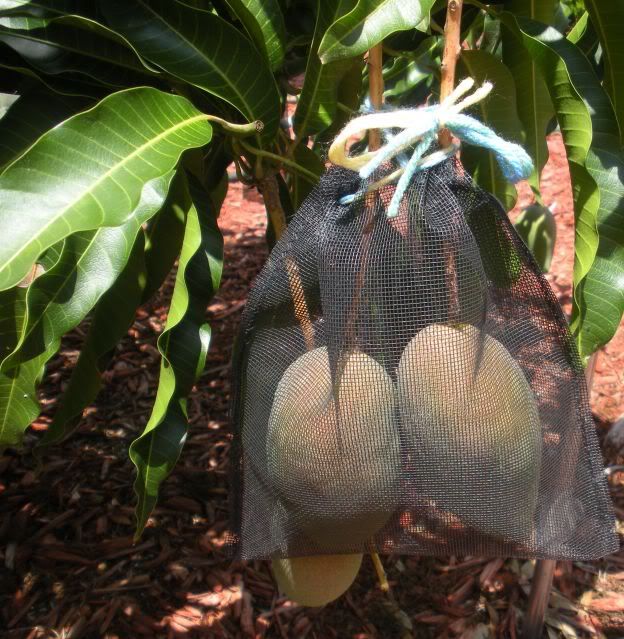 Here's one from the supposed Carrie tree? It is definitely looking NOT to be a Carrie at all...starting to look more like a Cogshall? I should be able to tell soon as its slowly coloring up now...
Thanks again Trini for posting those pictures...I hope this screen thing works as well as yours!
Nancy