Growing potted Mango/other tropicals in non tropical climates
yaslan
(8 WA state)
May 17, 2010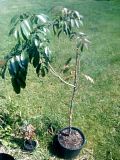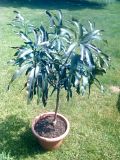 After my first mango died, I was really nervous about repotting my Zebda and Pink Ohia. But I finally got brave enough to try again and (except for the sun-scorched mango leaves) they don't look too bad. Has anyone gotten a potted mango to fruit in a non tropical location? If so, what was your experience and technique?
I have to admit it's been very challenging if nearly impossible to not acquire another tropical fruit tree. In a few days I should be receiving my grafted fino/selma. Also, I was very tempted to put in an order for the African Pride but dutifully resisted.
Though, my friends and family thinks I'm crazy and has warned me (that I won't get any fruits) unsuccessfully. This has not deterred my efforts or aspirations to grow tropical fruits in less than ideal climate. But it's just the opposite here. Mostly everyone on this forum has been an enabler...lol. I feel very much at home! ( :
Happy tropical fruit Growing.
Bo