Mortgage Lifter , Great or What ?
seysonn
(8a WA/HZ 1)
April 7, 2014
Lets talk about Mortgage Lifter. There are 2 kinds we can talk about but I am personally interested about the one from RADIATOR CHARLIE. Never grown it before, but I am fascinated by the man, his story and work.
OK. this year I started all may matoes from seed, without mail order. I got most of them off the racks and store bought. But I could not find Mortgage Lifter.
EUREKA ! EUREKA ! EUREKA !
I was in HD yesterday and I found a ML seedling. GRABBED it. @ $3.65 plus tax( almost 4 bucks), for a 5" pot size seedling, it was not cheap. But that is Bonnie price tag for just about anything. But that is ok. I am glad not buying any more tomato plants. In fact I might give away half a dozen or so.
BY THEIR FRUITS ...you shall know them.
Probably this is going to be one out of 5 large fruited tomatoes that I am growing this season. I hope that I will keep my faith in Radiator Charlie, as a legendary tomato person. This tomato has a story, a name and a man behind it.
WHAT DO YOU THINK ?
Lets talk some tomato talk. Not just any tomato, but the one with a story that can be made into a books and movies.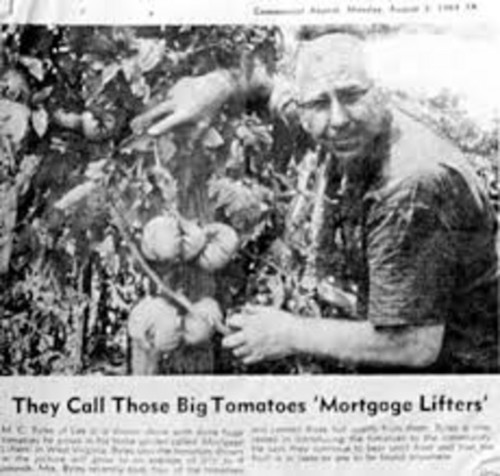 This post was edited by seysonn on Wed, Apr 9, 14 at 0:40