bought another mango (Zeba).
yaslan
(8 WA state)
May 1, 2010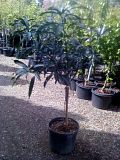 Well, I did it again (not intentionally). I went to the nursery to get a replacement for my mango and saw this 75% off all tropical fruit trees sign! This Zeba mango is 5' and as tall as I am. I feel that it must be destiny for me to get this mango. Also, I'm very tempted to go back there and get an avocado or sweetheart lychee.
I sure do feel like I've hit the tropical-fruit-tree Jackpot!
Happy Gardening!
Bo