Setting Fruit in Cold Temps
hudson___wy
(3)
April 19, 2013
eHow - "Extreme heat or cold causes tomato blossoms to drop prematurely from the plant. Tomatoes prefer temperatures between 55 and 85 degrees Fahrenheit, with temperatures no higher than 70 Fahrenheit at night. Too much heat causes the blossoms to wilt and fall from the plant, but usually causes no long-term damage other than crop delay as long as proper watering practices are still observed. The plants will produce new flowers once temperatures begin to drop. Temperatures below freezing causes the death of the entire plant, while low, non-freezing temperatures only cause a temporary loss of flowers and delay in fruiting."
Has anyone had experience setting fruit on tomato plants in cold temperatures? eHow is vague with regards to the low temps side of setting fruit. I guess it is a good sign that two out of the five tomato plant varieties that we planted (all at the same time) have developed fruit - but it seems the remaining varieties - Brandy Boy, Big Boy and German Giant - have had blossoms for a long time without any apparent changes? We are watering and feeding all the plants the same - low temps for the plants have not dropped below 40 degrees and high temps 85 degrees or lower. Do I need to maintain the low temps above a specific temperature in order for the plants to set fruit? This photo shows how the Sweet Baby Girl cherry and the Super Marzano tomato plants have set fruit - but the blossoms shown are on the German Giant plant - the Brandy Boy and Big Boy look similar.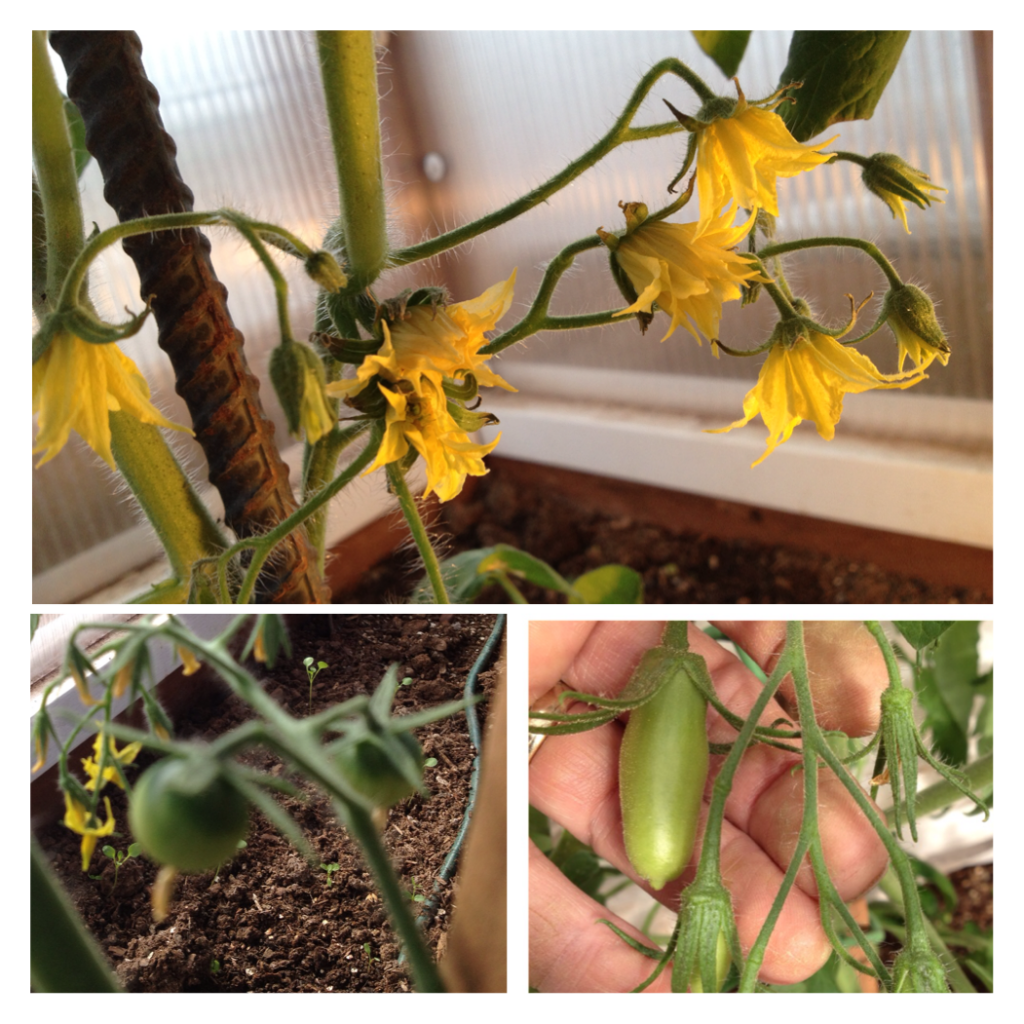 We are growing the tomatoes in a GH without temperature controlled heat - but attempt to keep the tomato plants from freezing (we have been able to keep them above 40 degrees) with frost blankets and light bulbs under the blanket. The plants have now out grown the protective cover and we will have to heat the GH with space heaters - I am concerned that the blossoms will not set fruit because of too cold non-freezing temperatures?