please help my mango seedling
peter.poiuyt
August 8, 2014
http://tinypic.com/r/23tfpmw/8
copy paste above link to see pic/s if you can't see them for some reason.
help.
i don't know what the cause of the white stuff on the leaves are. or white-ish? and then its browning on the lower portion. the leaf looks weird since i have cut the leaf as a few days prior the edges looked like they were burning. i mean it started to go brown. so i cut the part that looked like it was spreading. it got healthy after that though, i thought all was normal, now this again.
btw i checked underneath and there is this fungus? growing underneath the pot on the soil where there are holes in the pot, for water drainage. i did not manage to take a pic of that as i removed the fungi. is it normal? is it my fault? i used store bought potting soil or pot soil. it says it would prevent fungi and pests, or help prevent them.
the past few weeks were rainy, not much sun. the plant is outside when sunny, inside when raining. the plant was healthy earlier (1 week ago) now its this. i water daily like 1 cup except the last 2 days, i made sure the soil was damp. but the excess water flowed out the holes.
http://tinypic.com/r/16gabll/8
http://tinypic.com/r/33dywsp/8
is this a mango or part of the mango. the small thing to the left? is that weed? do i pull it out and kill it or what? i mean if its part of the mango better leave it right? if its weed, do i pull it out? will it damage the mango?
when can i transfer the mango to a bigger pot? will it survive in a pot or do i need to plant it on the ground?
how does flooding affect a mango? say i transfer it to a place that floods like once a year, but its flooded for at least a week, before the water would subside? or can i just grow it in a pot? a big pot but a pot still?
do i need to use pesticide? fertilizer? i am living in the philippines by the way. at least half year sunny, half year rain. sunny climate, then suddenly, rain. so not entirely sunny. we are now in our rainy season. sun is blazing hot tho, tropical, not desert.
i am very new at this. any other tips? please and thank you.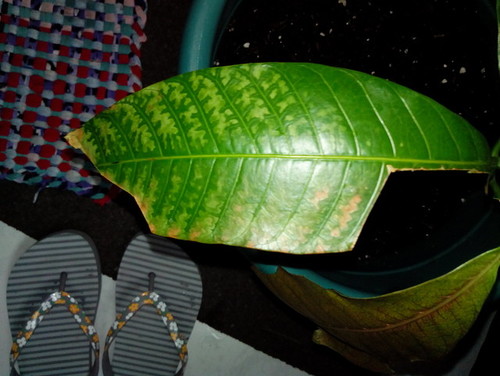 This post was edited by peter.poiuyt on Fri, Aug 8, 14 at 8:46