First Strawberry Guava Crop
I planted my Strawberry Guava 4-5 years ago. Now the bush is about 10 ft tall. For the first time, I'm seeing many red little guavas on it. It was an interesting sight. I tasted little of the fruit. It has a lot of tiny hard seeds in it. I had to be careful not to bite on them. The flesh is kind smoochy and runny with a little hint of strawberry taste in it. I wonder if the soft texture is due to them being over ripen. I think it may be better as a jam.
Although it's nice to have its fruit, I mainly planted it due to its cold hardiness and as a hedge along the fence line. It also has beautiful smooth bark on the stems which makes it prettier than the Pineapple Guava's stems that are a little rough on the surface.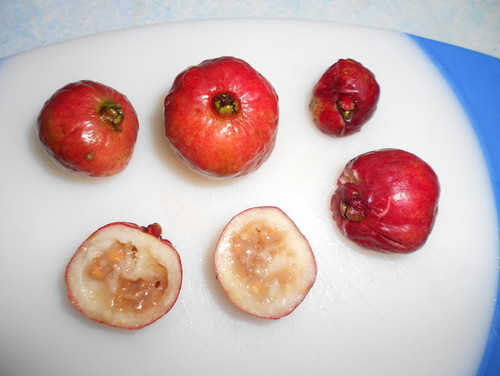 This post was edited by bananafan on Tue, Aug 13, 13 at 22:30