elevating flower pots or large planters?
I'm looking for ideas to raise a large pot at least a few feet so the plant can hang down but not touch the ground and so I can see it from inside my house while sitting down at the computer.
Its a Red Firecracker Fern, Firecracker Plant, Coral Fountain aka
Russelia equisetiformis, R. juncea
Right now its not a huge plant, but of course it sure wants to be! Its a 1 gal. I'll re pot it once I figure out the base. This is something I will have to bring inside for the winter, so I don't want just a tall planter. That would be too tough to drag in.
So far it looks like its going to cost me more money than I thought it would, which doesn't surprise me!!! All my creative ideas do!
Maybe there's a way to do something like this a little cheaper?
I do have a stack of left over bricks from when the house was built.
There's also the option of buying matching pots and turning the bottom one upside down to set the planted one on top of. I'm not too crazy about that though.
I'm thinking I want to run some rebar down the center of what ever I do so that it sticks up part way into the planted pot just to keep it from getting knocked of by storms, dogs, kids or hubby.
Anyone have any other ideas? Can you show me photos of what you've done to elevate larger pots?
Here's what I saw at Lowe's...and what I really have in mind --unless there's another option.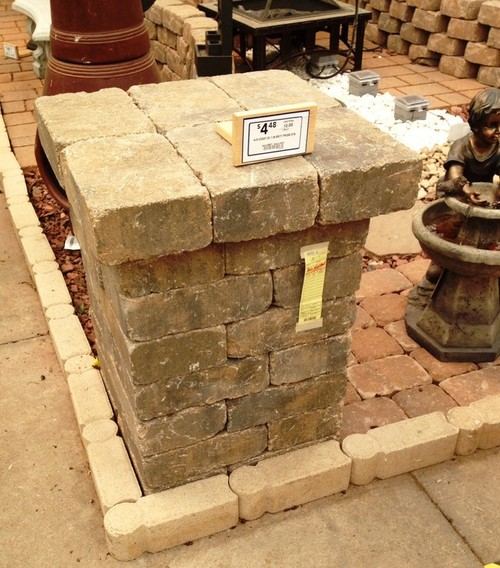 Here is a link that might be useful: scroll down to see one like mine