Planted lady pot and lace cactus blooming ...
roselee z8b S.W. Texas
April 24, 2014
My good garden buddy, Patty, and I have been wanting a face pot forever. Everytime we'd see one online we'd send pictures to each other. Finally Patty found us each one at Tuesday Morning and surprise! I received it for Christmas ... :-)
Here she is freshly planted ....
I stuffed it with succulents. The pot being deep has room for the roots. Succulents don't need much room for roots anyway. Bob thinks she needs a necklace. Whadaya' think? I'm thinking I might set her in a shallow, wide pot and surround her frilly succulets like a dress.
It would be hard to miss the lace cactus, Echinocereus reichenbachii, blooming today. Phoenix Joey passed it along to me years ago and it's been in a pot all this time. It always bloomed, but it really took off in the bloom department when planted in a large raised bed type planter. It's perfectly hardy with no protection. ...
Another spring project toward ease of care was to remove the blue plumbago in the front brick planter and design an area to hold a couple of pots. Today I planted the agave in the urn that was antiqued to match it.
I think this Agave americana 'medio-picta Alba' is the prettiest agave ever. Lisa passed a baby along and it was perfectly hardy last winter with no protection whatever. ...
Different color mulches (broken bags $1.00 each at Lowes :-) was applied for contrast.
I'll plant something special in the white pot when I figure out what that might be. Any suggestions?
Edit: For now I planted my new variegated paddle plant in the white pot.
http://www.smgrowers.com/products/plants/plantdisplay.asp?plant_id=3541
The bougainfillea, larkspurs and Rosa Julia Child are putting on a pretty good show so I added their photo.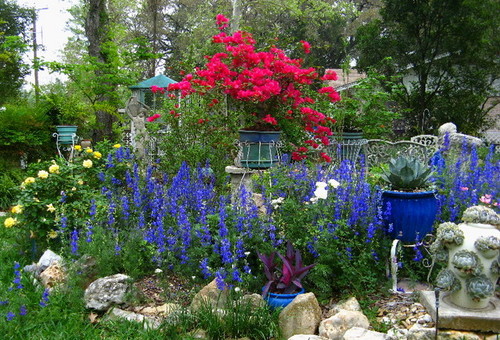 Here is a link that might be useful: Agave americana 'medio-picta Alba' ...
This post was edited by roselee on Sun, Apr 27, 14 at 22:45