They deserved better ...
roselee z8b S.W. Texas
June 18, 2014
My last post didn't do justice to some of the flowers pictured, especially the Mexican trixis, [correction: Heimia salicifolia] so I took some more. Notice the red stems that add to the appeal of the plant ...
Of course, photos are like potato chips; you can't take just one. First lady phlox ...
I planted several colors of echinacea for my dogs who like to nibble on the leaves (perhaps for medicinal purposes?) but this is the only one that thrived ...
Here's a close up of the gravel volunteers, four nerve daisies, zinnia, amaranth, young scarlet pentapete at bottom right ...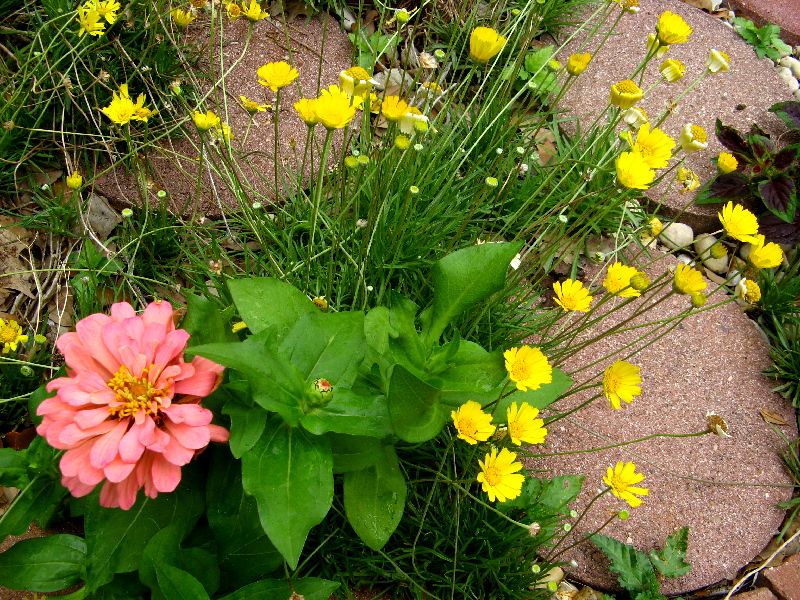 I love the brilliant blue of dwarf plumbago. It meanders around the garden never trying to take over, but never disappearing either in spite of heat, drought and low temps ...
When this caught my eye I thought a pipevine swallowtail butterfly had finally come and laid eggs producing a caterpillar, but it was the bloom. I'm always amazed at how for protection the caterpillar so resembles the flower ...
This canna never gets much over a foot tall and blooms all summer ...
It seems these may be my last photos for awhile as my old camera stopped functioning. Does anyone have a suggestion for a very simple camera (for a very simple person :-) with which to replace it?
Happy gardening!
This post was edited by roselee on Wed, Jun 18, 14 at 22:23