Touring 'sunnysa' Irene and Doug's arts and crafts garden ...
roselee z8b S.W. Texas
June 26, 2014
Some wonderful hours were spent this morning touring Irene and Doug's beautiful garden.
We started out on what I called the "Fern Porch" that Doug built; large, shady, and cool ...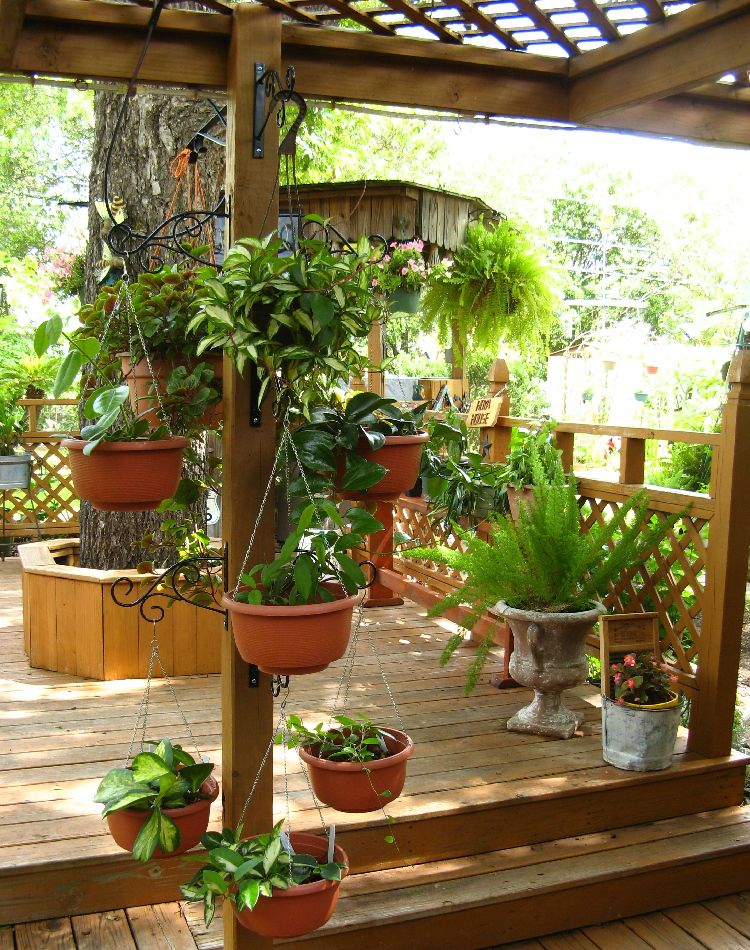 Irene keeps some of her Hoya collection on it ...

Doug has a special place on it too. He not only builds -- he cooks! ...

See their "pet" cardinal? Doug puts seeds for it in the little bird cage. The bird knows and comes near them, but I had to hide to take the photo with a telephoto lens ...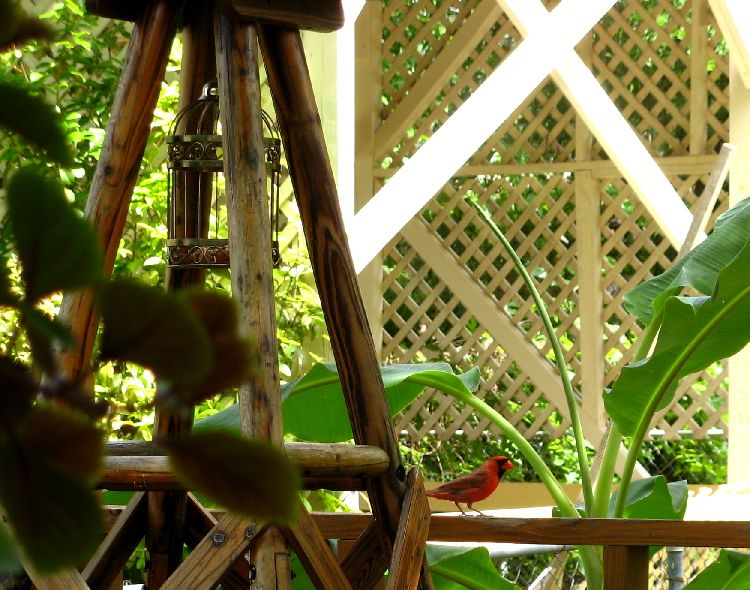 As we step off the fern porch we come upon one of several beautifully arranged flowering plant islands ...

The other side of "Doug's shack" ...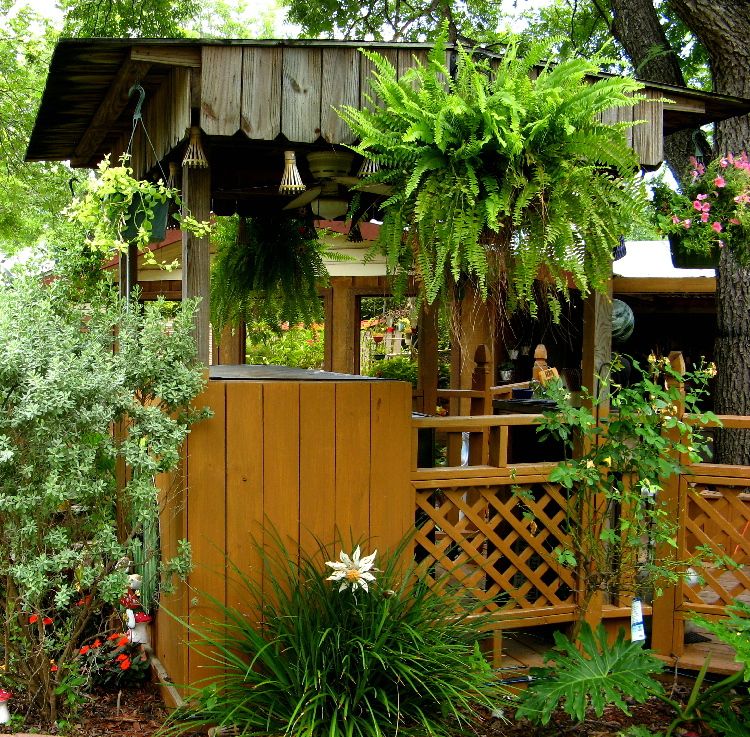 Irene and Doug wasted no time in creating their own 'Green Door' after seeing it on the Texas Forum. Unfortunately there is a sign saying "No Admitance" and it was well guarded by serious looking gnomes so I didn't get to see what lurks "behind the green door" ...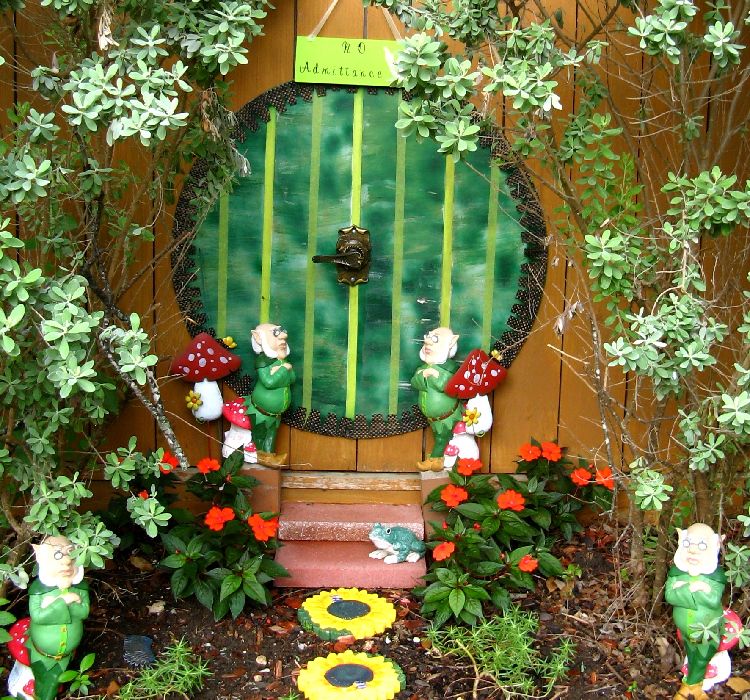 Have you ever seen a LIVE bottle tree? ...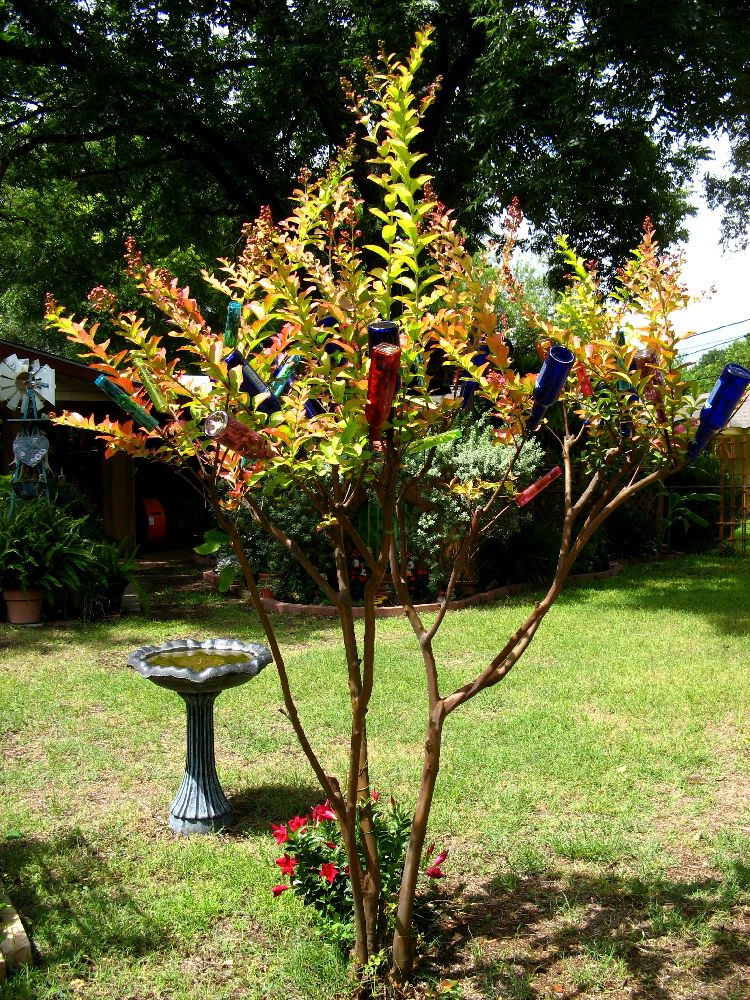 After our last hard winter they thought it was dead and so decided to make a positive statement out of the bare limbs, but it surprised them by resurrecting ...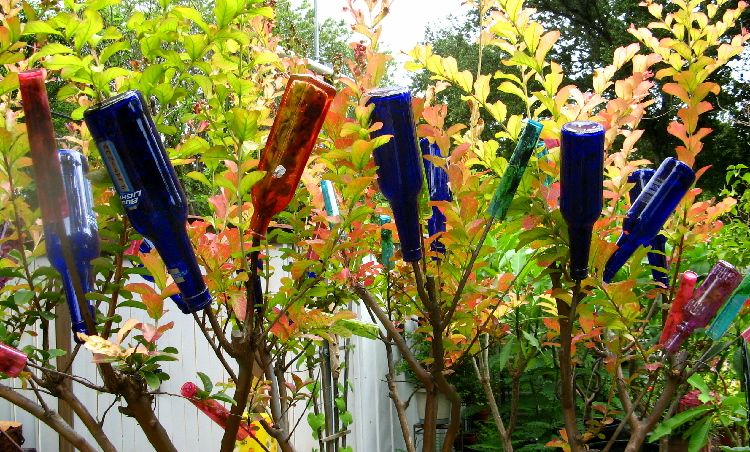 I didn't even ask for a start of the "Inch Plant". I knew if they gave me an inch I'd take a mile ... ;-) The owl seems surprised! ...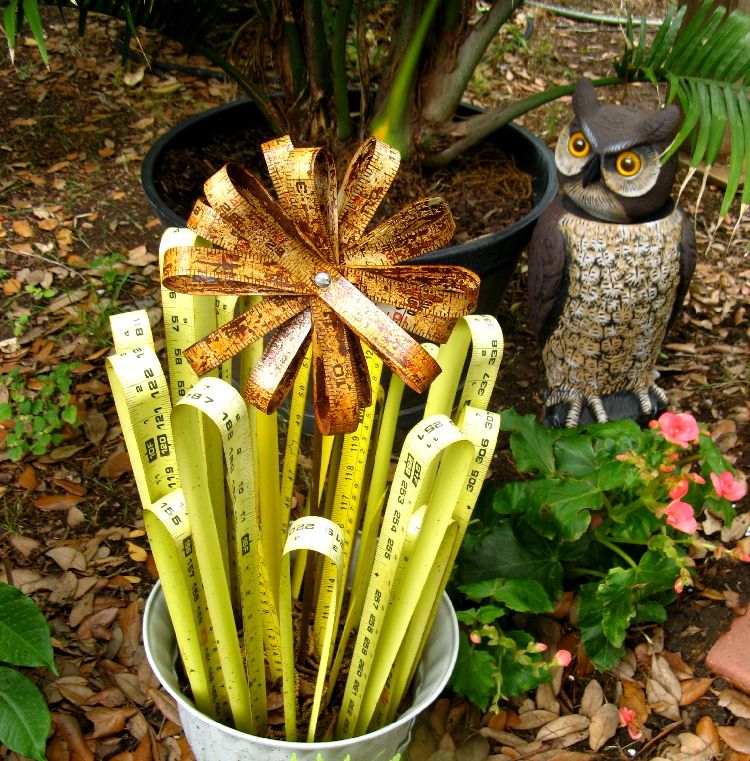 I had no idea a pony tail palm would survive outside! Doug said the top suffered a little from last winter's hard freeze, but it still looks good to me ...

Every where I looked there was a charming vignette of collected articles or things that Doug made such as this stork. Doug threw away the round piece of plywood from his Christmas train buildng project, but Irene found it and painted a coast scene on it ...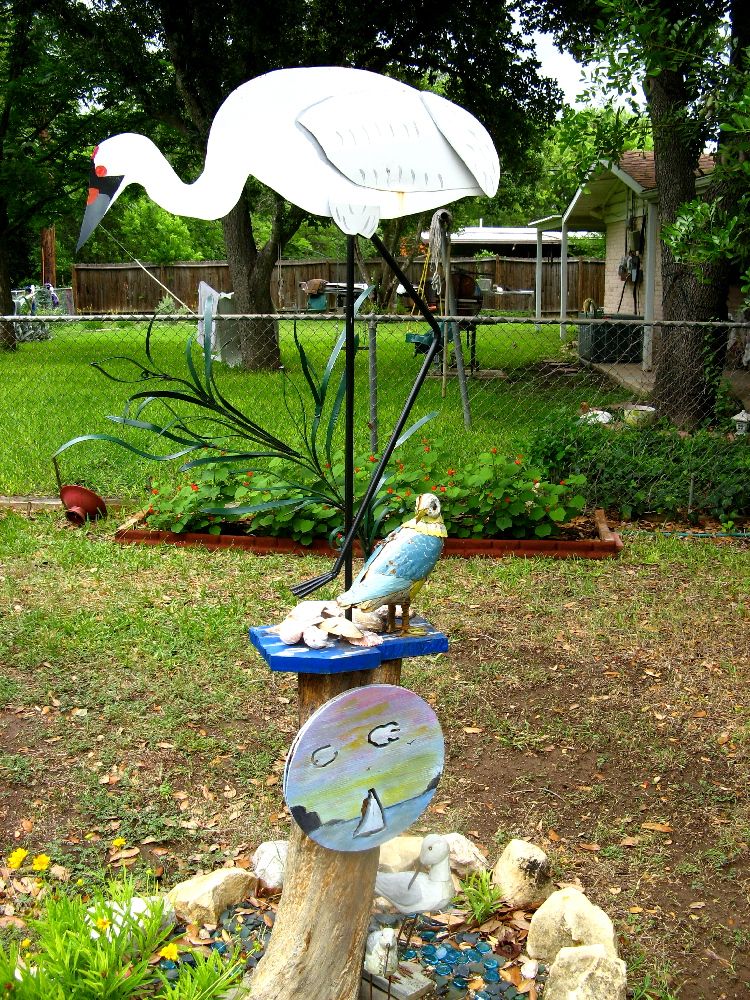 Irene wanted a head pot and this coconut fills the bill with a tropical flare ...

The Madona corner. Irene beautifully refinished this found piece and planted a white garden around it ...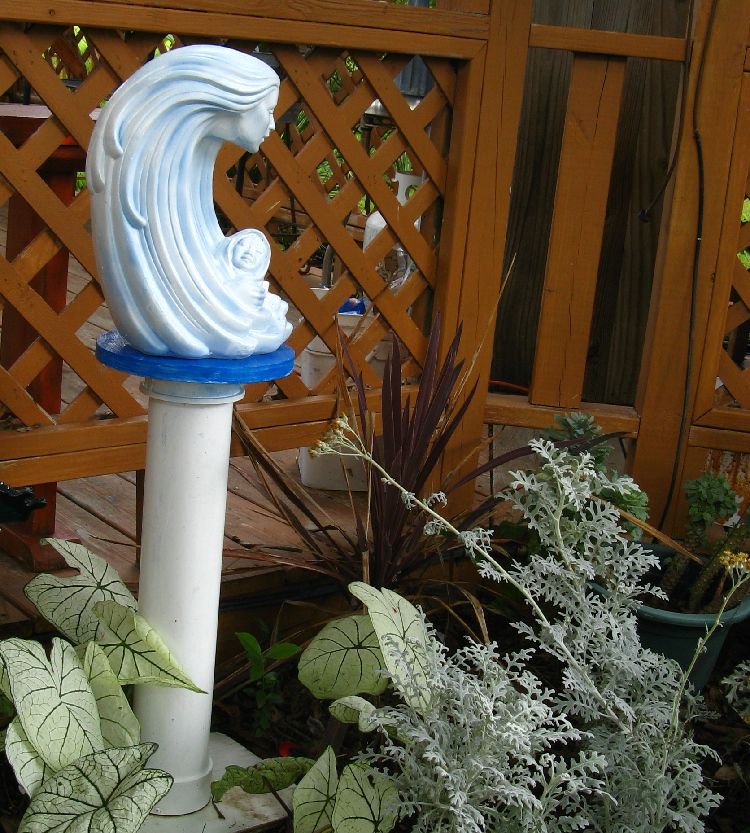 Flamingos roam among their extensive Plumeria forest. The hard rains yesterday knocked most of the blooms off ...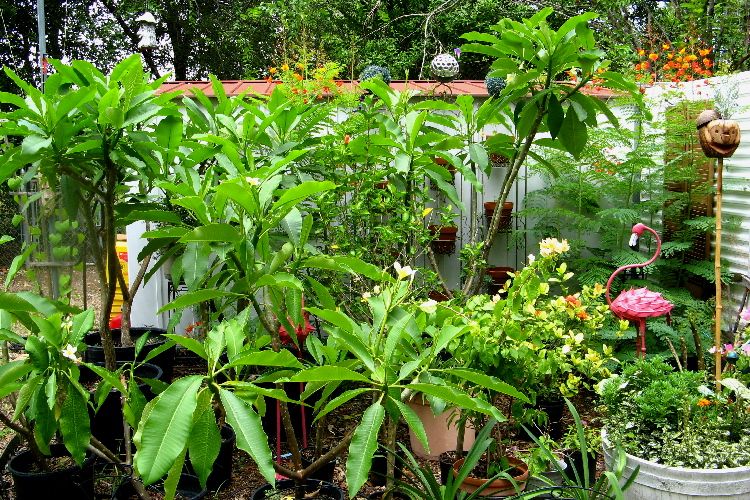 Doug made this planter out of a log and Irene planted it with succulents ...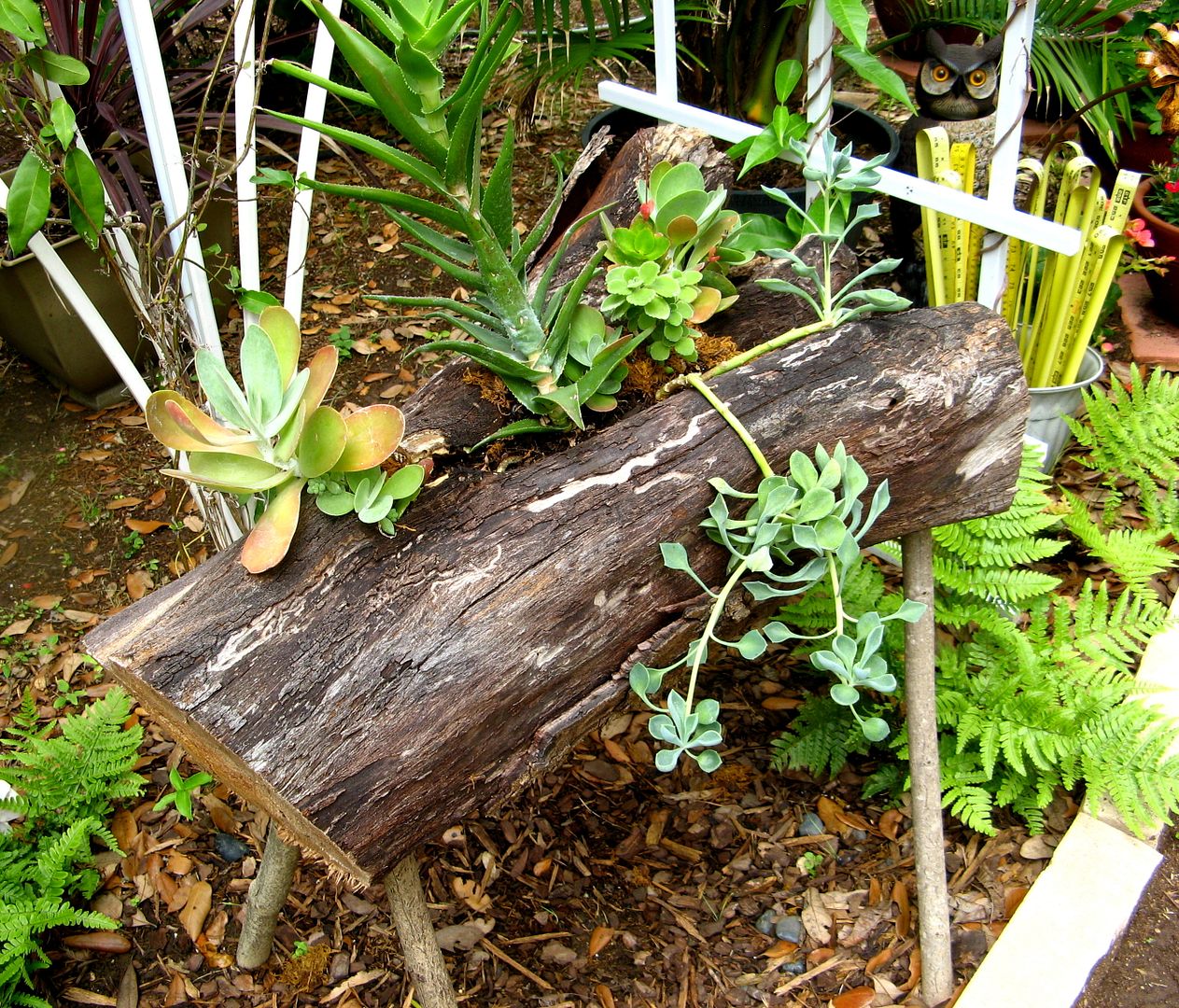 Now I know what I'm going to do with my chicken feeder -- exactly what Irene did with hers ... :-)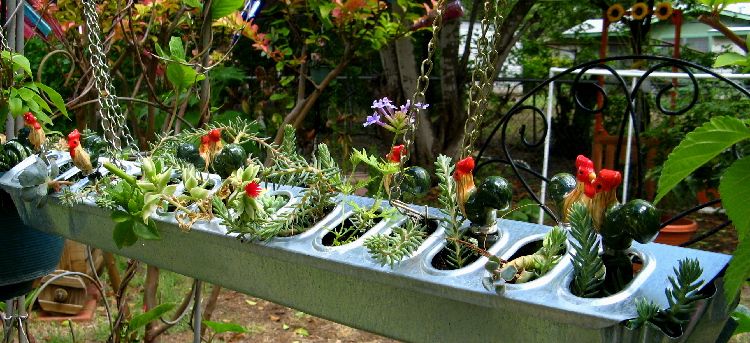 If they get tired of this mask I know where I could hang it ... ;-)

Doug made this. Isn't it wonderful? ...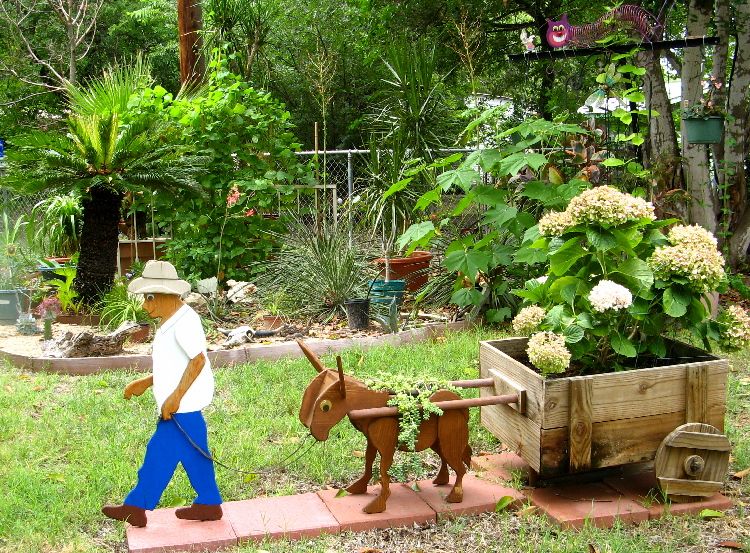 Doug built a large family room onto their house putting 3 large two way mirror picture windows. From outside it reflects the garden from about anywhere you stand ...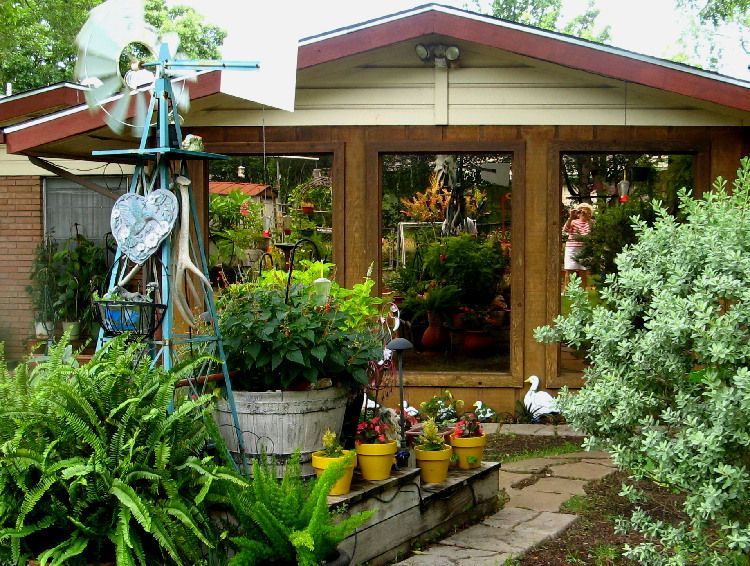 From inside you have a beautiful garden scene. Part of my stash of plants sent home per Irene is on the right. Thank you Irene! ...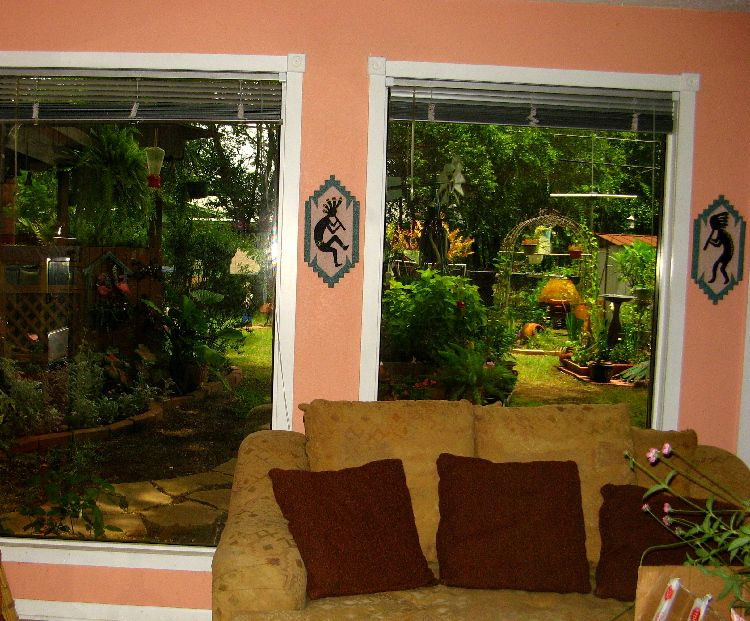 Much appreciation Irene and Doug for a wonderful morning touring your garden. Plus I loved seeing Irene's oil paintings and the projects Doug has going on in his workshop. Those could be the subject of another post!
Truly: "Gardening (and crafts) is the joy in your heart, made visible."
This post was edited by roselee on Thu, Jun 26, 14 at 19:02