new: MNF 'Garden Junk'
dirt_under_my_nails
July 14, 2008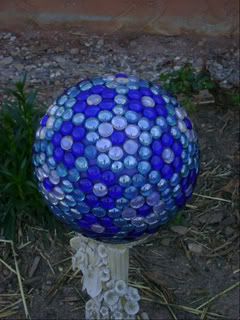 Calling all "Garden Junkers" !!!! Come join us as we decorate our gardens!
Plastic Flamingos,Bottle Trees,Tipsy Pots or maybe that lady bent over gardening sign!Tea cups as birdfeeders,clay pots as animals,silverware as windchimes!!!!!Afraid of what the neighbors think?? Wellll..... cute garden signs,painted rocks, & normal windchimes acceptable too!!
So, here are the RULES........
(1) As per GW rules, you must be at least 18 years old to participate in this swap.
(2) One garden art/junk item for your buddy. Can be homemade!!!(reduce,reuse,recycle!!!)
(3)4 DIFFERENT plants.
Seeds do not count & will be considered gifts.
(4)Signups go until August 10th. Packages must be sent by the 25th of August.
(5) Priority mailing & delivery confirmation is a MUST!(NO one wants LOST art & rotted mushy plants!!)
(6) Keep it inexpensive!
(7) Have fun !
If you are someone who likes to lurk , please post a HELLO! We love Making NEW FRIENDS! Come on in and sit a spell! Have Garden Junk? We would love to see photos!!!
Let the Junking begin!!!!
Later....April/dirt_under_my_nails