Per Roselee's Request...!
bobbi_p
(z8/9 Cypress, TX)
July 15, 2010
I've been working fervently in the garden this week. I'm home alone following a week with family in Illinois (hubby gone on business, kids with grandparents learning what real work is). Since I missed the week of rain, there was a ton of nutgrass to pull when I came home!
But, I must say the work has been more than a pleasure when I get to sit amongst the beauty/nature around me!
So, here goes:
Here are some unplanned combinations:
White lantana has been extremely slow to wake up this year. Now she's in my guara:
Bought this giant cigar plant at The Arbor Gate a few monthes back. It hadn't broken dormancy yet. Been abusing it in the pot. It's still hanging on, but looks like I got a bonus plant. Can you tell me what it is? I know I've seen it, but haven't a clue... It's not one that catches my eye.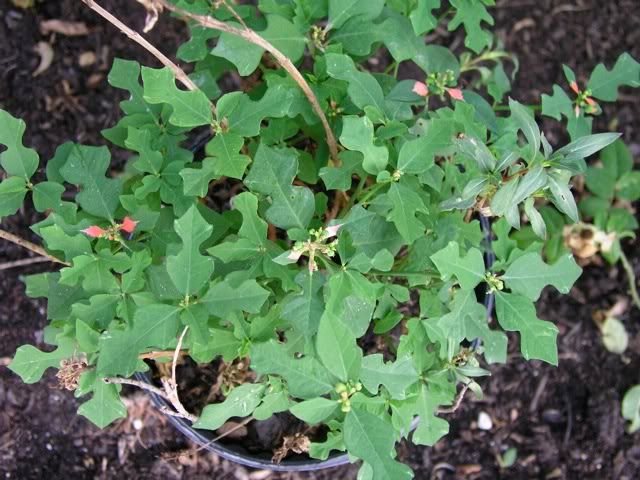 Nothing like real rainfall to get those spores to grow! How do you like the puffballs and yellow fungus in the dead portion of my rosemary?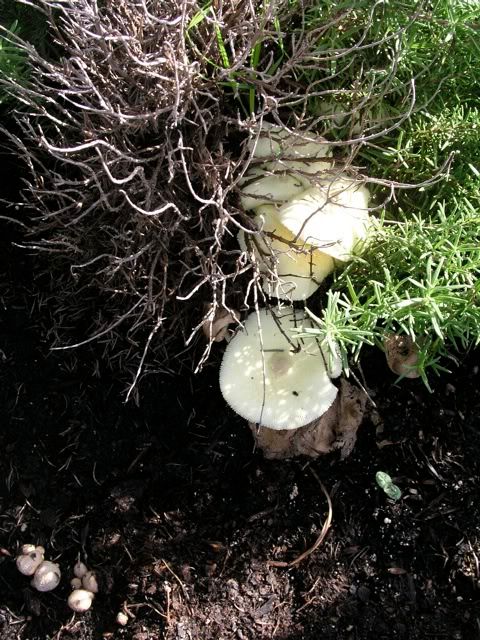 Not planned, but isn't this yellowing leaf striking on the Texas Star Hibiscus?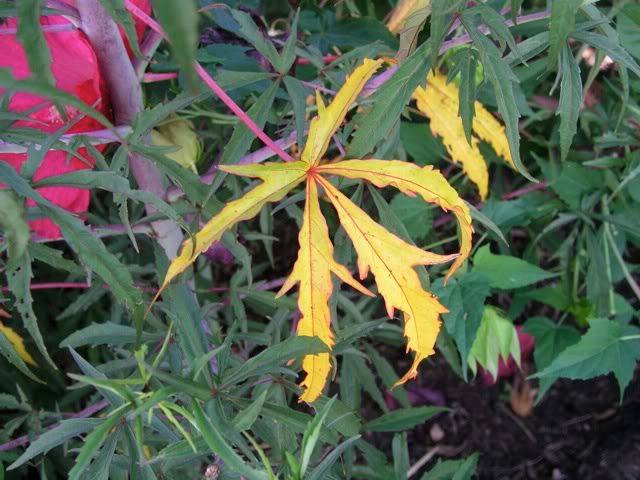 I didn't know that Lamb's Ears bloomed: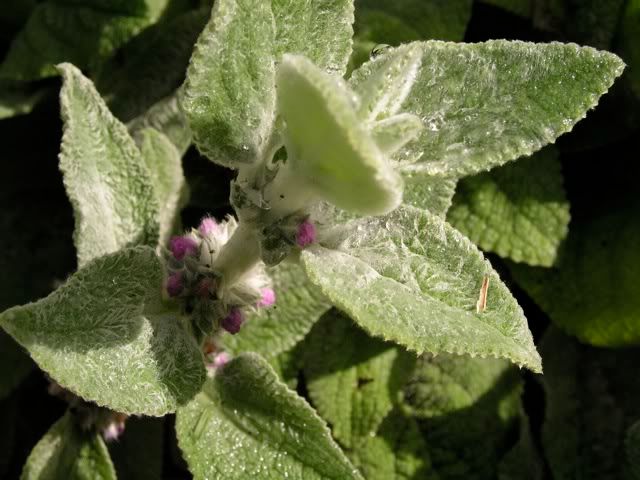 I can't take credit for it. The people who built the house, then backed out chose the landscaping, but the sages sure loved the rain too!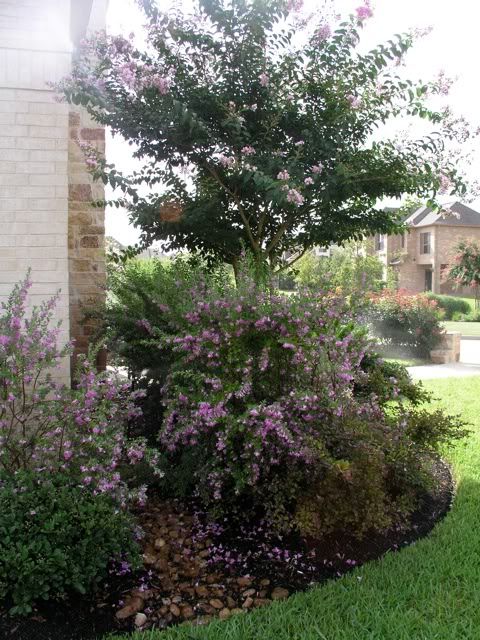 Now, how 'bout some critter combinations?
First, unwelcome: I guess as long as I live in Texas, there'll be leaf-footed stink bugs!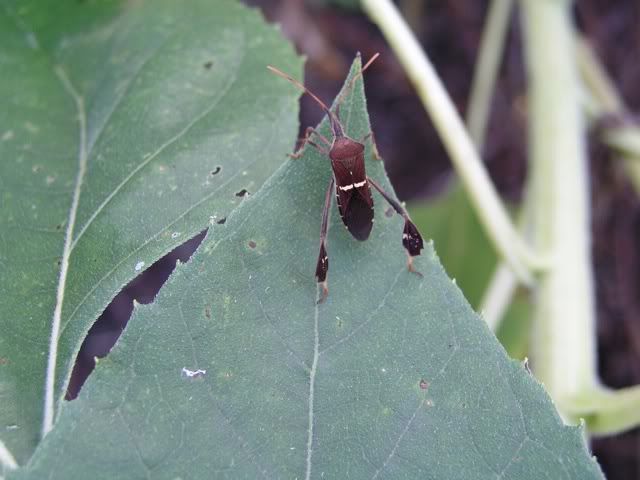 Luckily, even though I viewed my yard as quite "sterile" even last year (I rejoiced at every anole I successfully smuggled home on nursery purchases), I've been pleased at the number of good guys I have: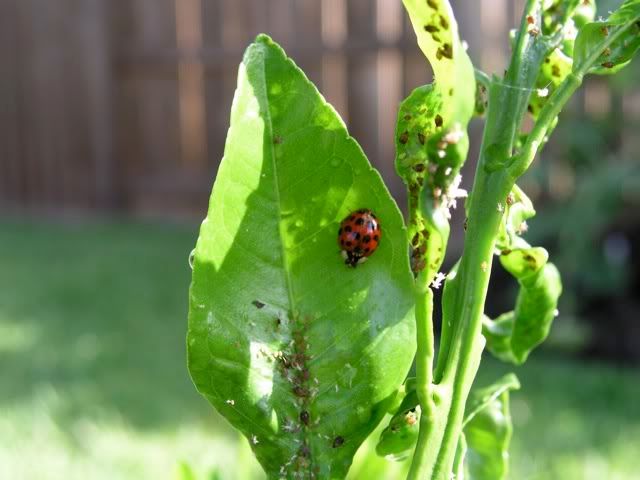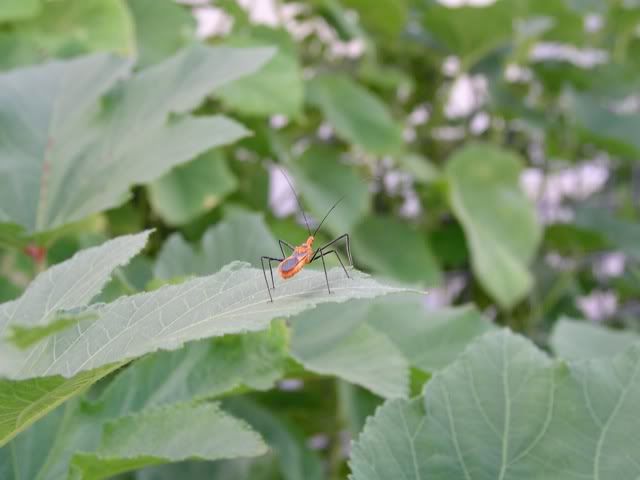 Do you think this was one of the critters making music for me as I watched the stars come out last night after an evening of weed pulling?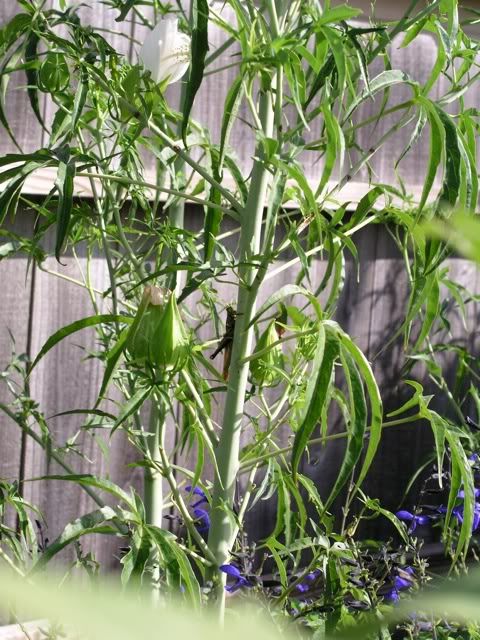 The pollinators have been buzzing my Black and Blue Salvia and Almond Verbena like crazy this week, but of course when I grab a camera they're hard to find. As I was trying to catch this bumble bee: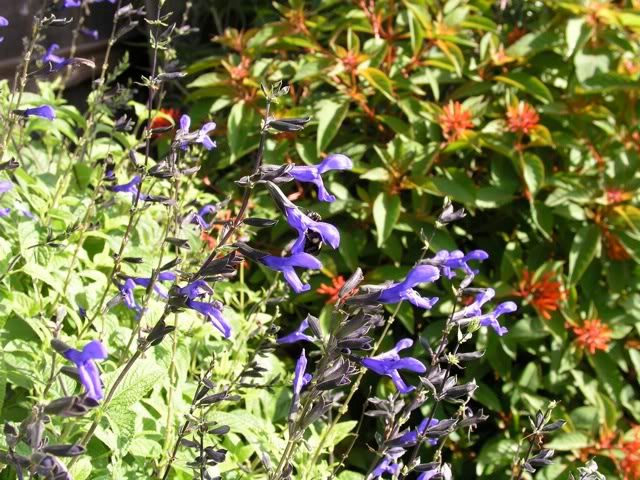 I didn't even notice the assassin bug!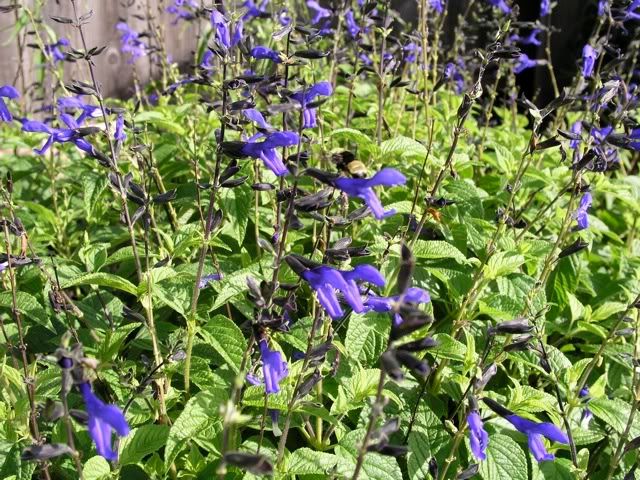 I noticed these eggs on the underneath of my brug and wonder if they'll become some of those white fuzzy cats? Anyone know? I'll look it up later...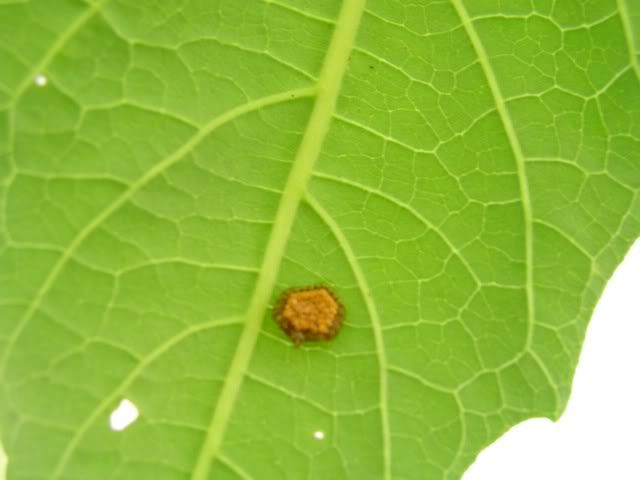 Then there's the vegetable garden combinations I'm happy about. It was late April before hubby was able to finish my veggie beds. I'm pleased to have anything this summer and am looking forward to this fall's garden already!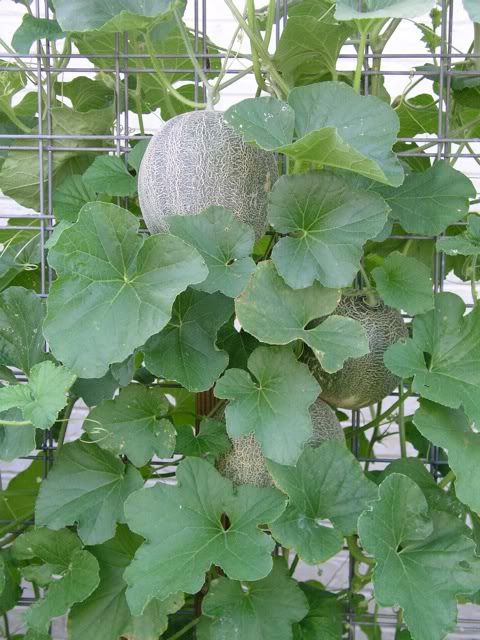 Buds on the okra finally! I know I'll be tired of it before it's done producing. I really want to pickle some this year. Anyone have a good recipe/tips for this yankee transplant?
Here are some combinations that didn't work as I planned them. Isn't there another post right now about spring visions/summer realities?
Porter weed is blooming, but not visible at all behind the hibiscuses. I think I was worried about how easily it might spread...
This is how I want my Cat's Whiskers and Southern Wood Fern to look. Unfortunately, my skilled photo taking has eliminated the reality of the weeds/grass that grow beneath the Cat's whiskers in the end of the bed that desperately needs guttering placed on the eave above it before I can hope to plant anything of value!
I vaguely remember sprinkling some echinacea seeds in front last year. I just cut out the past peak rudbeckias (since Buchanens had some wild-type mislabelled as Indian Summer), and look who surprised me amongt the red salvia and mealy cup sage!
This planter isn't nearly as full as I'd like. I think I need to move it to more sun. The African Blue Basil is supposed to be stunning in it. Do you think the gnome is nipping the buds, BossJim?
I'm always aggravated that it takes Thyrallis so long to bloom, but what dainty blooms! My depth of field is off and nothing is particularly in focus, but that's kind of how I look at my garden. If I keep my vision blurry, the weeds aren't apparent and the colors are amazing!
And finally, here are a few, just because I haven't posted any photos in a while and I'm relatively pleased with the way my plans are progressing!
Like I said earlier, the white lantana has been very slow to wake up. My white/silver/moon garden will be much brighter when it does. I missed taking photos the first time the brug bloomed. It was breathtaking!
This is that Tumax trellis product for masonry. So far, so good. Just over the past couple of weeks I've gotten good terminal growth on the jasmine to continue training it on up the wall. Guess I can trim out the lower diamonds now that I know it will grow up!
I don't think I've posted photos of the finished veggie beds at all. I didn't get the tomato cages staked before the winds came last week, so they're all a-kilter...
Hope I didn't bore you!