Updates and Work in progress
rock_oak_deer
(8b TX)
July 13, 2010
Roselee asked about what's new and in progress this summer. So here's an update.
The front island inferno I posted about here has really filled in nicely.
The Russian Sage has turned into a real star here so I plan to add more to replace the lavender which is not doing well there. It takes a while to find plants that are happy with the "sidewalk, sidewalk, driveway, driveway" border.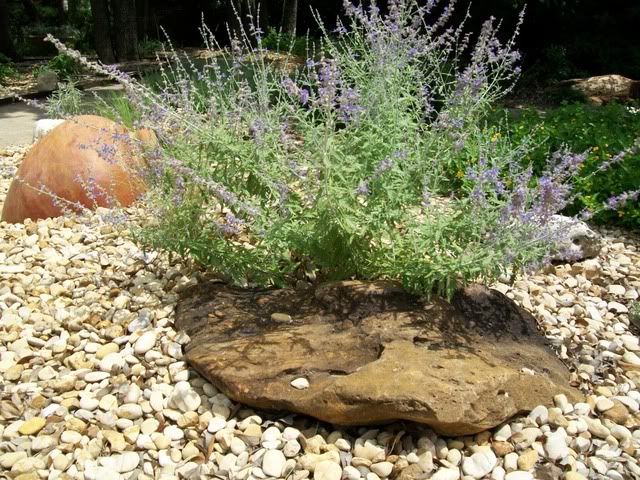 Don't have a before picture for this one, but SAWS gave us a manhole cover in the backyard and we turned it into a real Texas garden..
Maybe that should come with a warning for "Texans Only." I may have to replace the Blackfoot Daisy and Verbena there because the deer keep pulling them out even though they don't eat them. We just finished it so will need to experiment on what works. Eventually there will be a planter in the middle on top of the cover so it can be moved for access.
The front yard remains a work in progress, so I'll share the one bright spot..
That's John Fanick's Phlox blooming for the first time. Two years ago, the entire front yard looked like the area on the right with tons of gravel on top of deteriorating black plastic like the piece showing there. We've removed the black plastic and gravel and terraced the yard with rocks dug out when planting. This area was finished this spring. The long term plan is to have different areas of plantings with mulch and gravel in the pathways.