Landscaping in gravel ...
roselee z8b S.W. Texas
July 11, 2010
Not much going on in the gallery right now so thought I'd show you what I've been up to.
A few years ago the 'mulch guy' and I decided to remove the water and mowing problem in the front yard and we've been very happy with that decision.
However, ever since the deer got the munchies and I had to move the roses and other 'deer dessert' the front has looked a little plain jane. Then yesterday I got a bee in my bonnet to brighten things up a bit with the exquisite smaller varieties of agaves (thanks Patty) and other dry climate plants and started collecting during the drought of '08 when thinking I needed to downsize the garden to ONLY drought tolerant plants, VERY drought tolerant plants ... LOL. Well, you all know how long THAT lasted.
Anyway here's the first cut: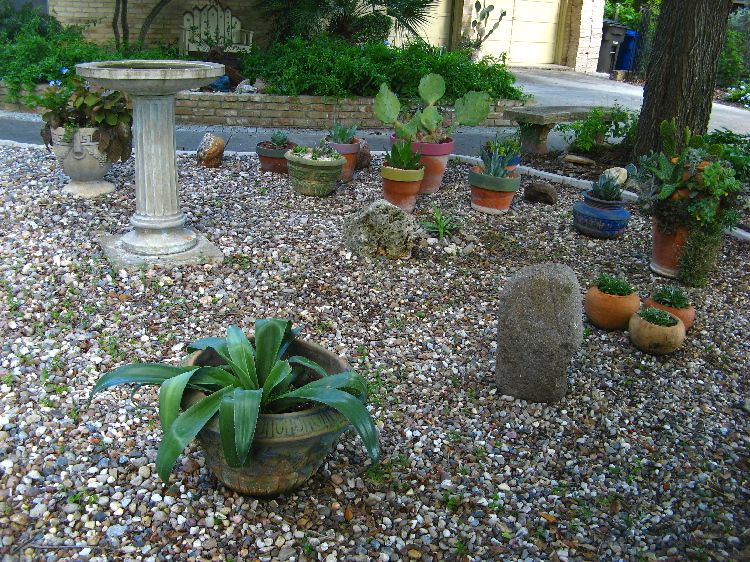 Maybe it's not what a landscape designer would do, but it is what a plant collector does ... LOL. Besides, the agaves; which I dearly love, were getting lost among all the foliage in the back yard.
I painted the rims of the clay pots to give some color. Kinda' quaint, don't cha' think?
All that's needed now is one of those turned over pots of flowers like Shirley showed us.
Hope it gives you all some ideas and courage to be brave in your own garden. Play around with it and do what you want to :-)