Planning new flower bed in side yard
ExoticRGVNativesTy
(10a TX)
September 6, 2011
I am planning a new flower bed at our property in Bayview between the house and a brick walkway that connects the pool to the outdoor shower. So far all I have planted are succulent groundcovers at the ends of the bed, Heep's Spiderwort in front of the crawlspace and Coastal Stonecrop below the gate radius (not seen). Excluding that area, the bed measures 3 ft x 11 ft and faces to the northeast. The soil is unnaturally rocky as a result of leftover gravel from remodeling being mixed in, but is otherwise well drained silty clay loam.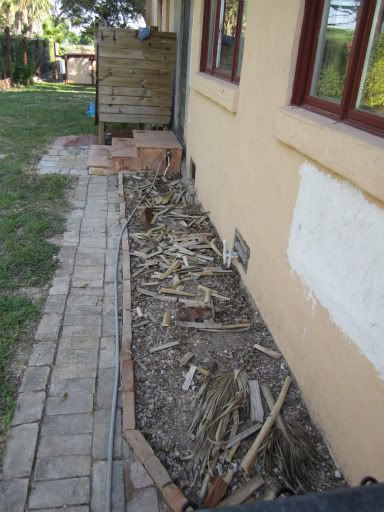 I have chosen Texas Torchwood to go between the windows, as it should stay compact in this relatively shady location. Espaliering Crucita on trellises placed below the windows is one option, and there is plenty of lattice paneling in the garage with which to make them. I could then plant Chandler's Crag-lilies in front of the trellises, which I have read are tolerant of partial and dappled shade. These plants shouldn't mind the rocky soil too much, but I'll sift out gravel from the immediate planting areas just to be safe.
I'm not sure when I'll next get a chance to plant anything, and it might not be until November.
Ty