Photos of San Antonio Plant Swap Oct.12, 2013
roselee z8b S.W. Texas
October 13, 2013
Yesterday we gathered for another great SAPS, San Antonio Plant Swap, and for once we were thankful that it didn't rain!
It seems everyone was saying they were leaving with more plants than they brought. But that defies the laws of physics so how can it happen? LOL Maybe the phenomenon is akin to the Biblical multiplying of the loaves and fishes ...;-).
We were very happy to welcome quite a few first time attendees! The participants came not only from San Antonio, but from the Austin area, various Texas Hill Country locations. and Galveston to name a few, but Darlene takes the prize for driving in from the Dallas area and bringing not only many of her own plants, but also swap items from Sylvia.
I hope I captured a photo of everyone attending. My apologies if I did not. Perhaps some others took photos they'd like to contribute to this thread.
Shirley, Melody and Mara. Shirley has been organizing our swaps for the last couple of years ...
Tally, Sheila, and Mara ...
Peggy and Geneva ...
Melody and Heather. Heather blogs about gardening in San Antonio here: http://xericstyle.wordpress.com/ ...
Shirley and Geneva ...
Linda, Barbra (who secures our use of Rogier's Park) and Shirley ...
Arshi and Mara ...
Lisa, Mike, Mizan and Jim ...
Geneva and Irena ...
Geneva, Peggy and Melody ...
Irene, Darlene, and Tonya ...
Karen "Blue Girl", Darlene and Mara ...
Signing up for the drawing ..
After the swapping most headed over the my (Ragna/Roselee) place to continue the fun. The clouds were hanging heavy at this point, but still no rain :-) ...
Tally, Bob and Jim ...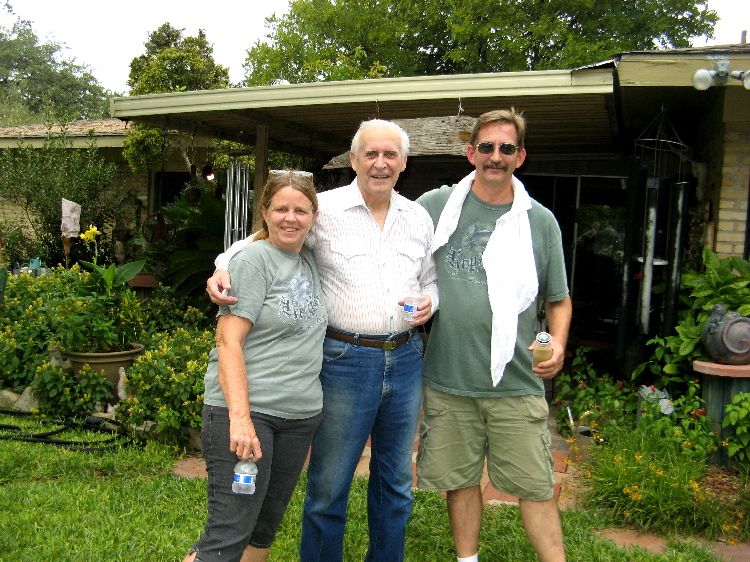 Paul heads courageously toward the hooded Voodoo Lily, He wanted some photos showing relative size to send to a friend in hopes of getting it identified ...
Paul bravely stands his ground, but Mara and Arshi aren't so sure ...
Incidentally the Voodoo lily is grown for its beautiful foliage and only blooms after several years when the bulb reaches a large size. While the flower is beautiful in an exotic sort of way it is smelly because it evolved to attract flies as pollinators.
I trust everyone made it home safely with their stash of great 'new to you' plants. Many, many thanks for all the plants you all so generously shared! I am more than appreciative of not only the plants, but more for the many wonderful friends gardening has brought my way! Several of you were missed. I hope you make it to the next gathering of SAPS for plants.
For those of use who received succulents at the swap this article from Yuccado.com has some timely advice for planting.
Here is a link that might be useful: Is fall the time to plant Sub-tropical plants?
This post was edited by roselee on Sun, Oct 13, 13 at 15:01