San Antonio Plant Swap and Garden Visit Oct. 2012 ...
roselee z8b S.W. Texas
October 14, 2012
It was a great day for the swap! The weather was perfect with just a slight sprinkle of rain for a couple of minutes. It was wonderful to welcome new people and several out of town visitors.
Overvew of some very engaged swappers ...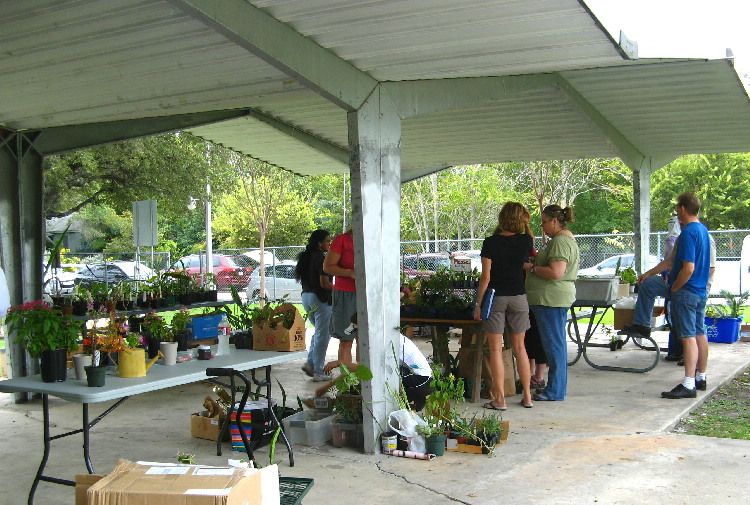 Teri "Lucas, tx", and Tally "Tally HO" who drove in from Galveston with hubby Jim ...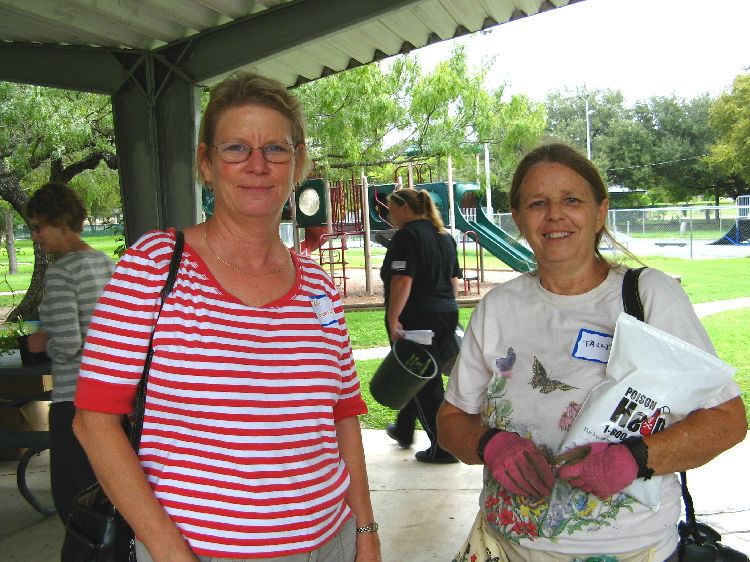 Tally, Mara, and Patty ...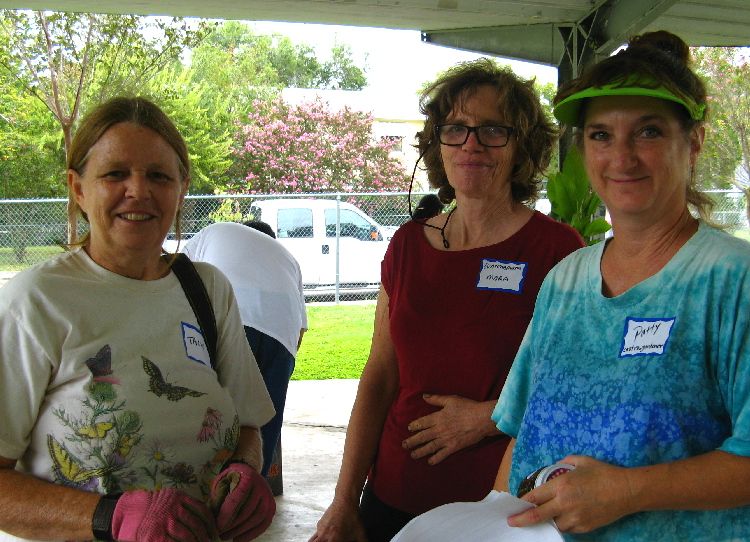 Among the first timers were Mizan "Mamachili" and "Flower Lover" ...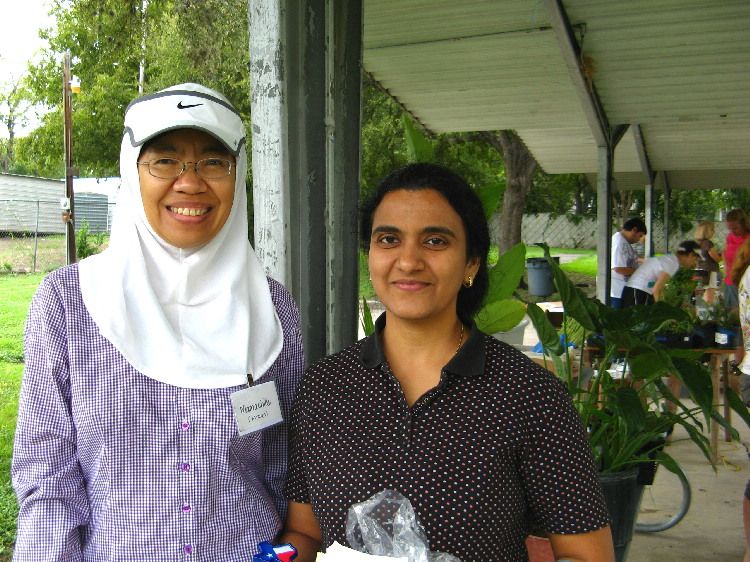 "Garden Lover" and Shiela checking out Sheila's table. She always has interesting edible plants ...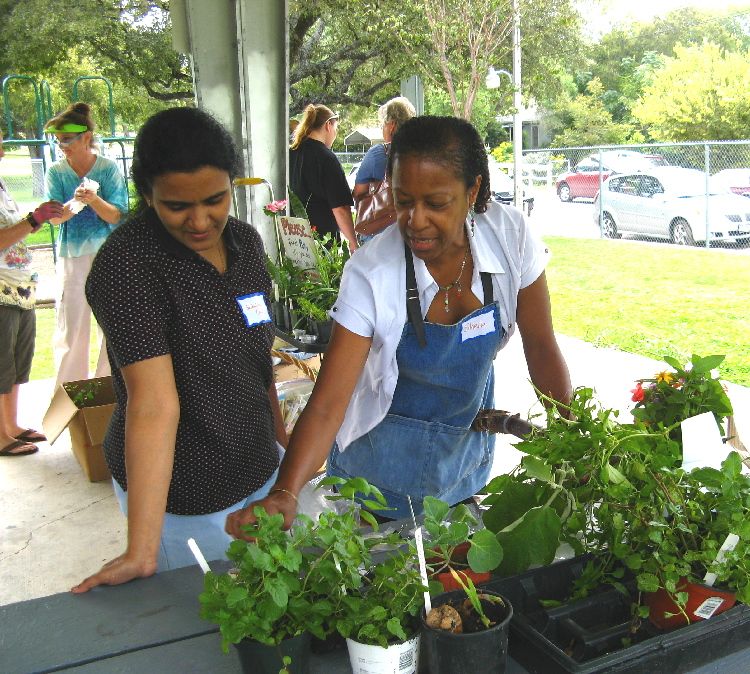 Shirley "Rock-Oak-Deer" joins the pair ...
We really enjoyed meeting Teri who snuck away from a family gathering in Dripping Springs to be with us, and Tally who drove in from Galveston to see some San Antonio sights with Jim as well as attend the swap ...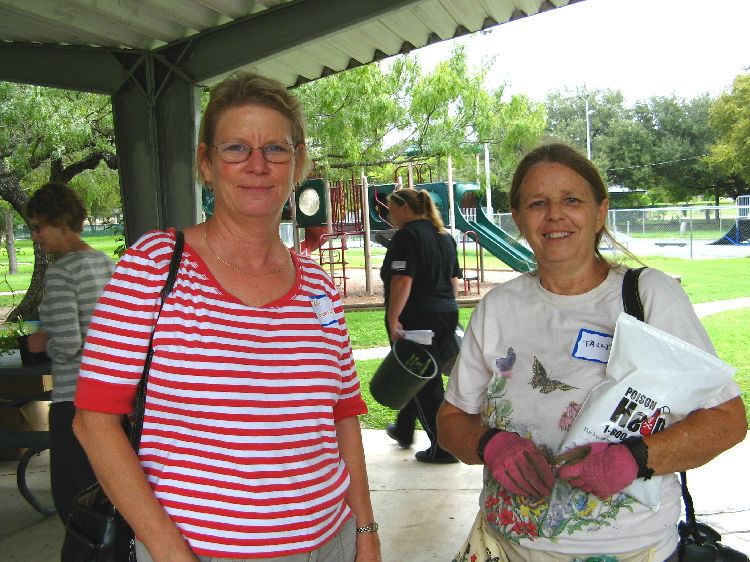 Jim, Lisa, and friend Miriam. Lisa brought a note book of great photos from her large garden on some acreage in Von Ormy which is just south of San Antonio. I hope you all got a chance to look at it ...
Come on guys, there's enough cupcakes to go around ;-)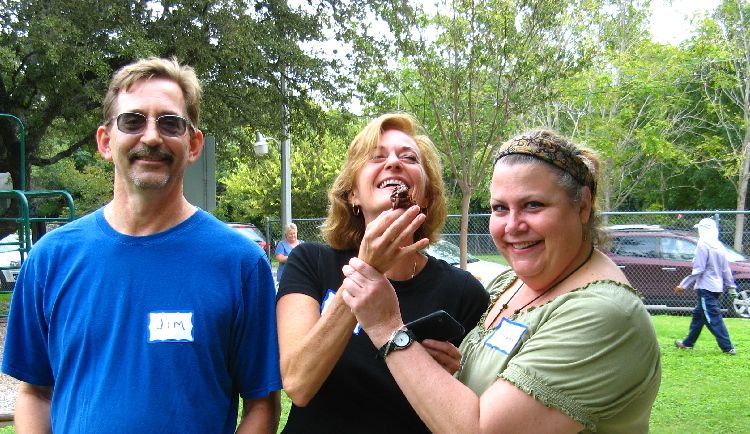 Finding out all about the winter jasmine plant ...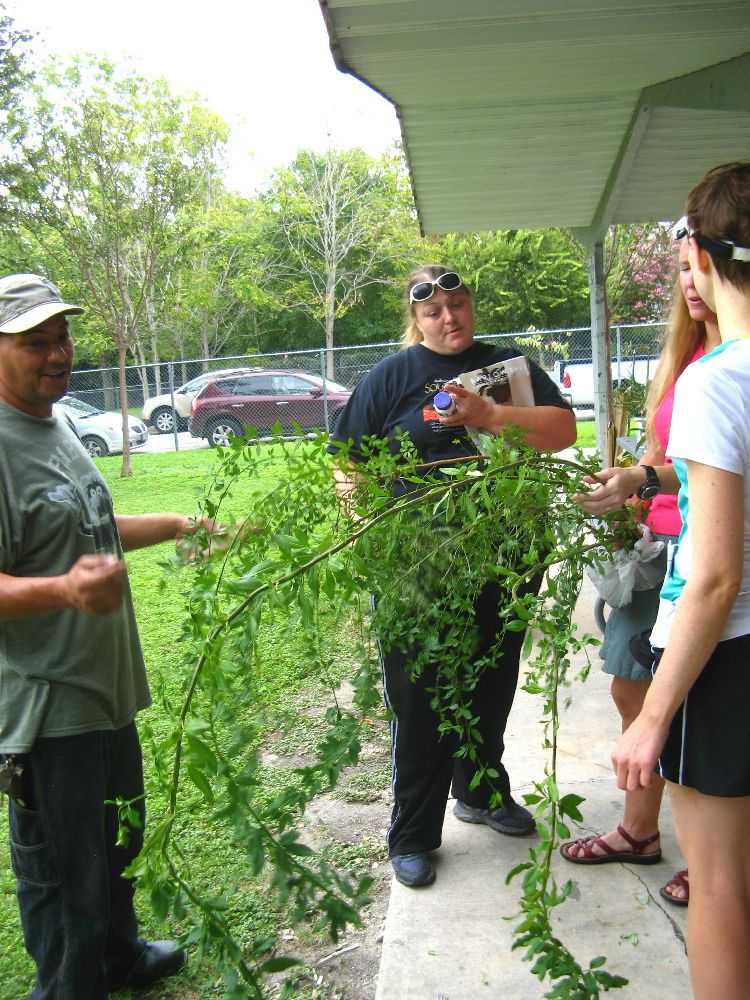 Mike and Mizan unloading a tree. I was happy to learn that they live near me ...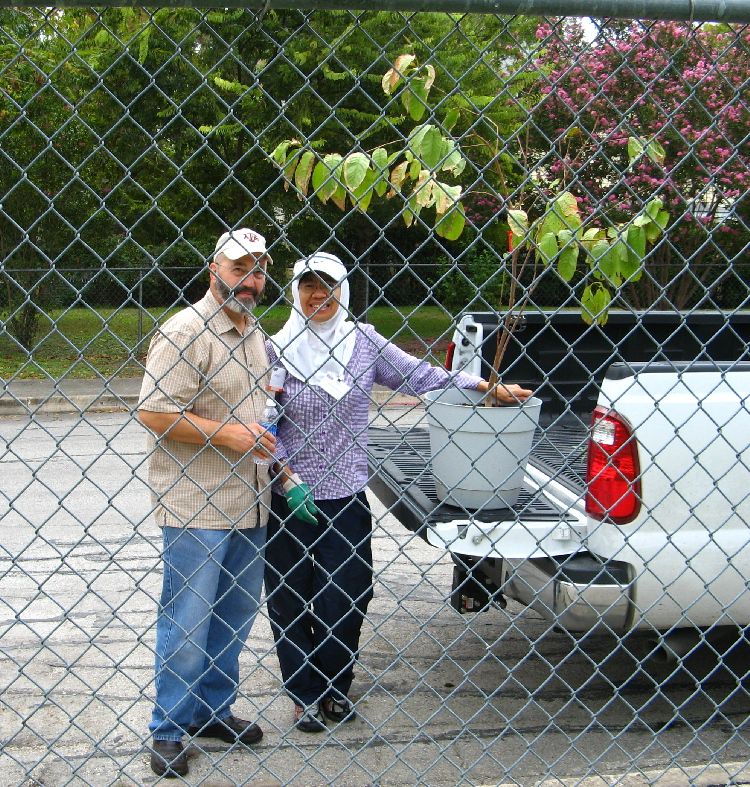 Pat 'LeapingFrogLady" said she left the frogs at home this time ...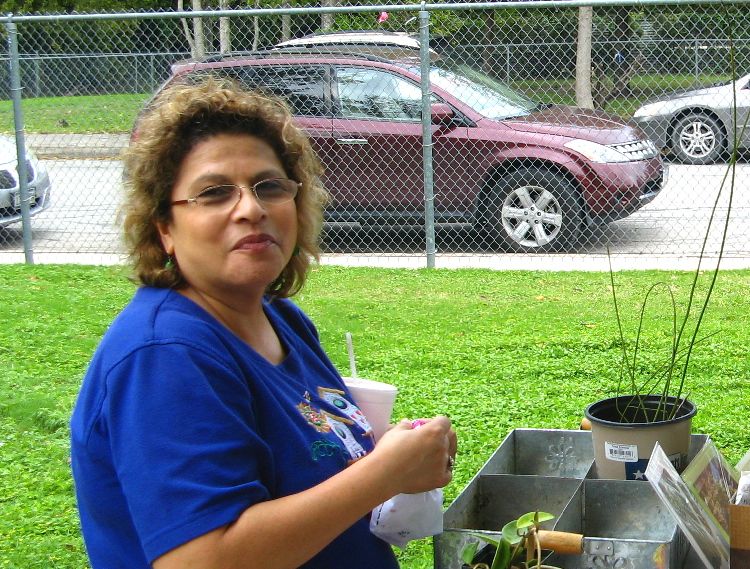 Lorelei, another new swapper with Shirley. Lorelei found out about the swap on FaceBook ...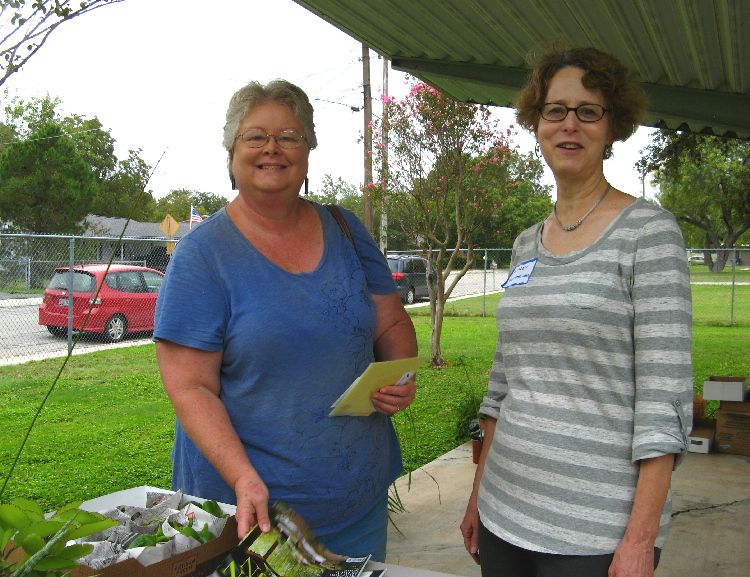 Mara, Teri, Linda and Shirley ...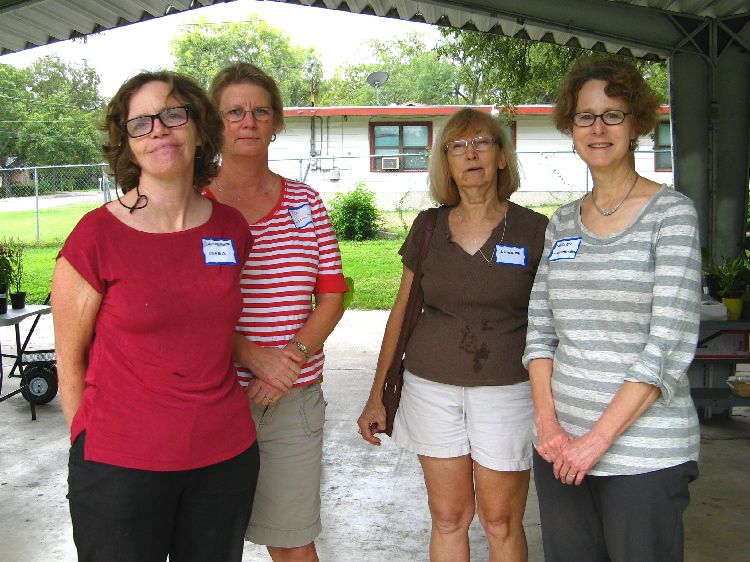 Meridith "Meriberi" who had a tennis game that day, her tennis captain Stephanie, and Barbra. Barbra secures the swap site for us, but had to leave early to attend a family event ...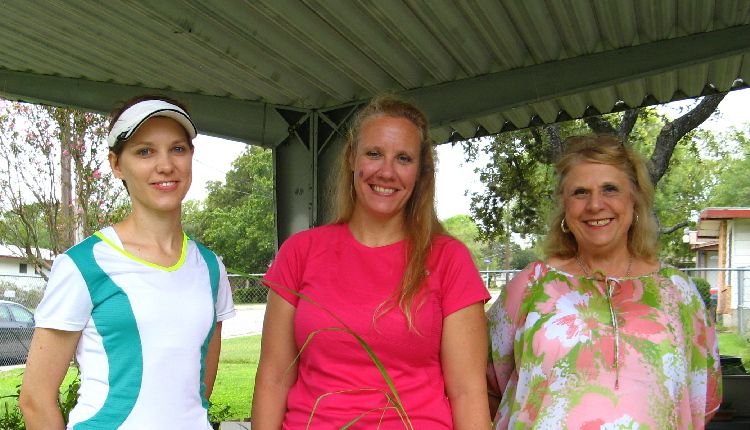 Meredith, Ken, Stephanie, and Patty on the floor looking for something ...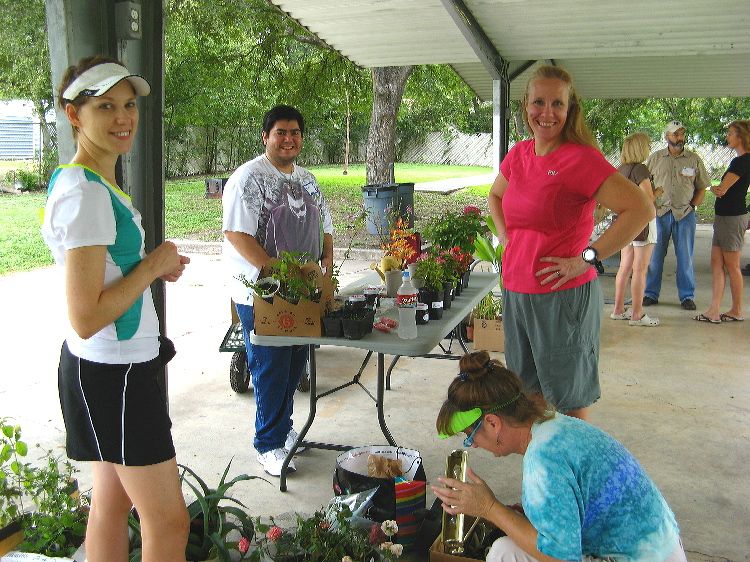 Mike, Miriam and Lisa ...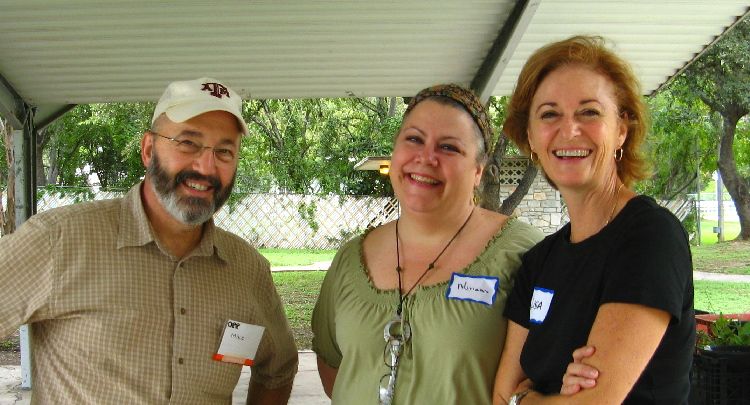 Uh oh -- Mara spotted something. Everybody watch out!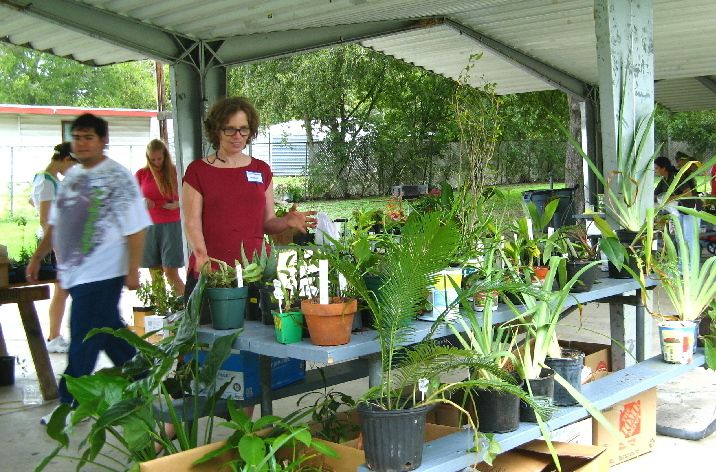 We had a nicely stocked door prize table and some tasty snacks also. When my name was drawn I selected the two matching pots. You can never have too many pots! Thanks to all who contributed.
Around 11:00'ish most of the swappers started packing up their goodies and drove over to my place to continue the conversations. If you were one of those who didn't get to come we missed you and hope you can visit some other time.
Bob, my 'mulch guy, talking with Shirley, Lisa, Mara and Shirley ...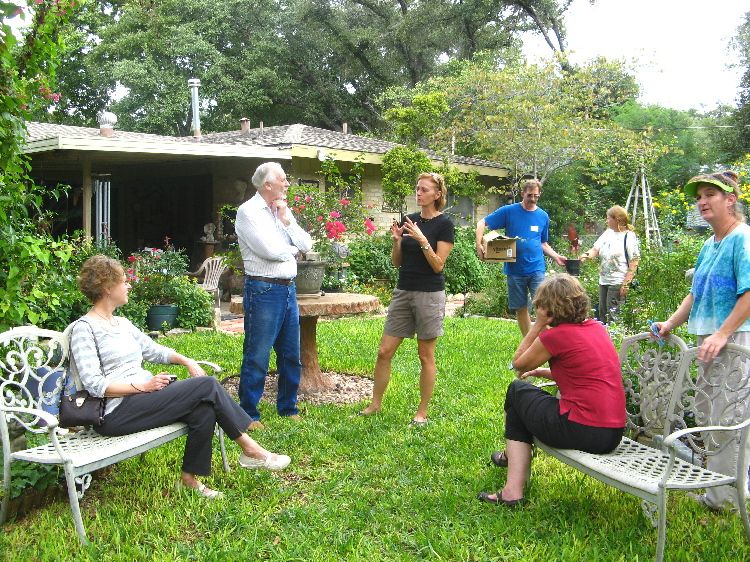 Tonya checking out the Rangoon Creeper blooming on the side of the house ...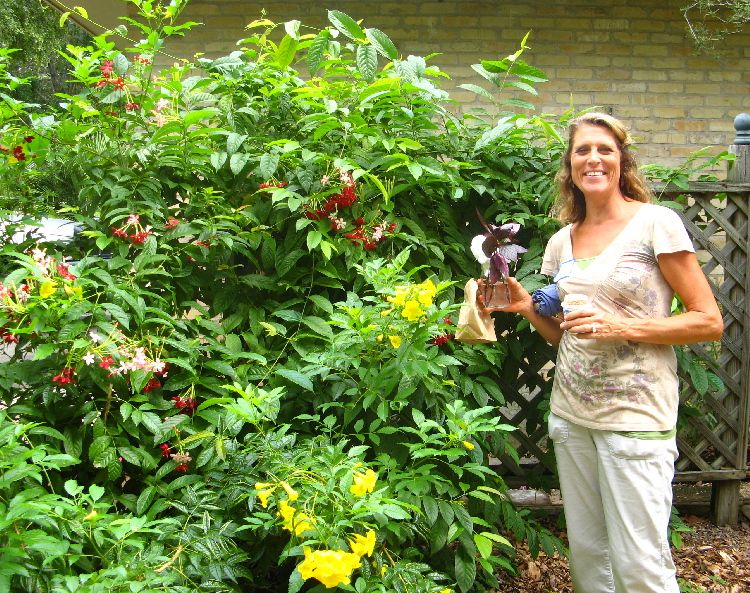 My sister, Joan greeting Tonya ...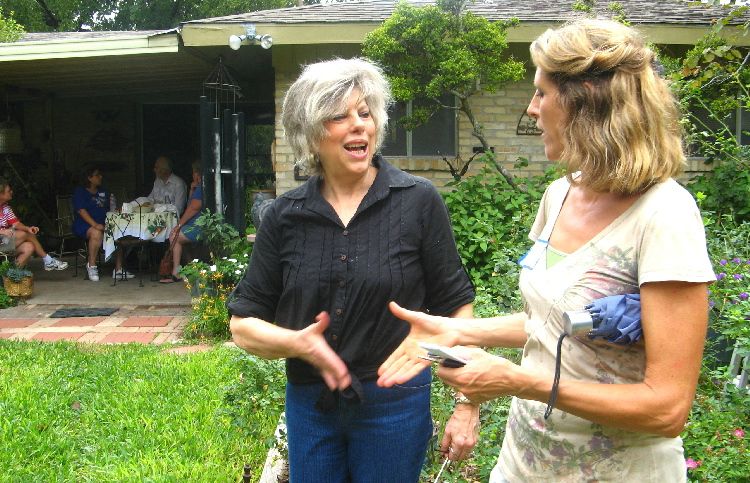 You know these folks. What isn't commonly known is that Patty is my "personal shopper". I tell her what I'm looking for and she magically comes up with it :-)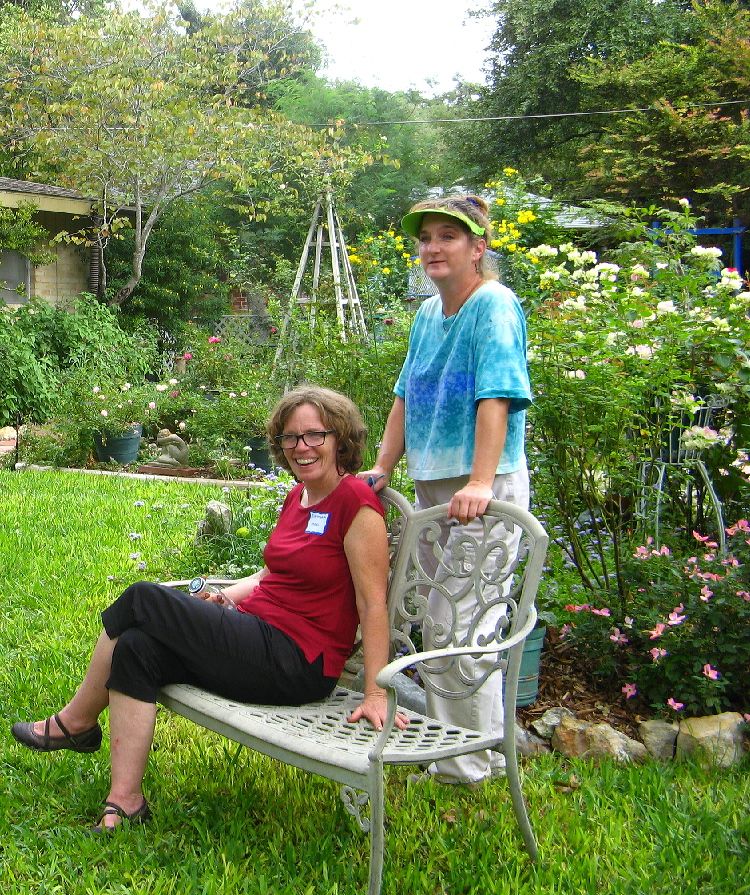 Bob giving some of the ladies a hug ...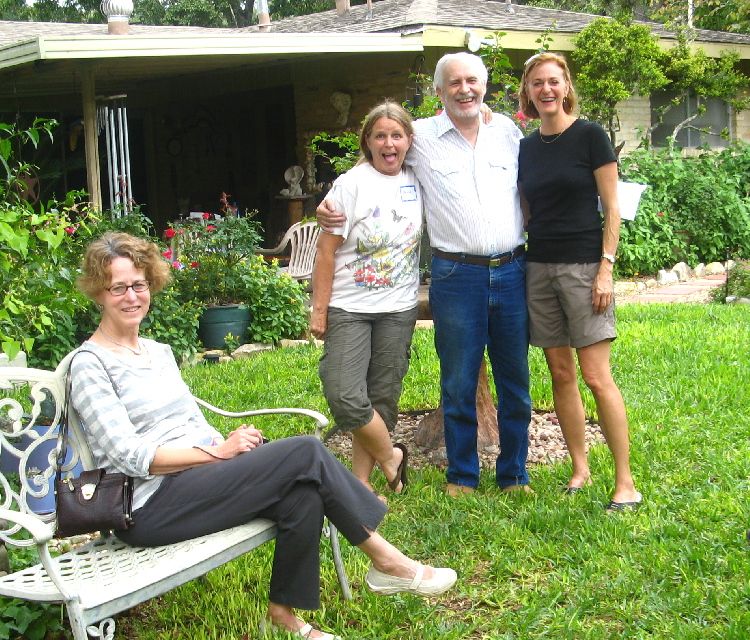 More is even better!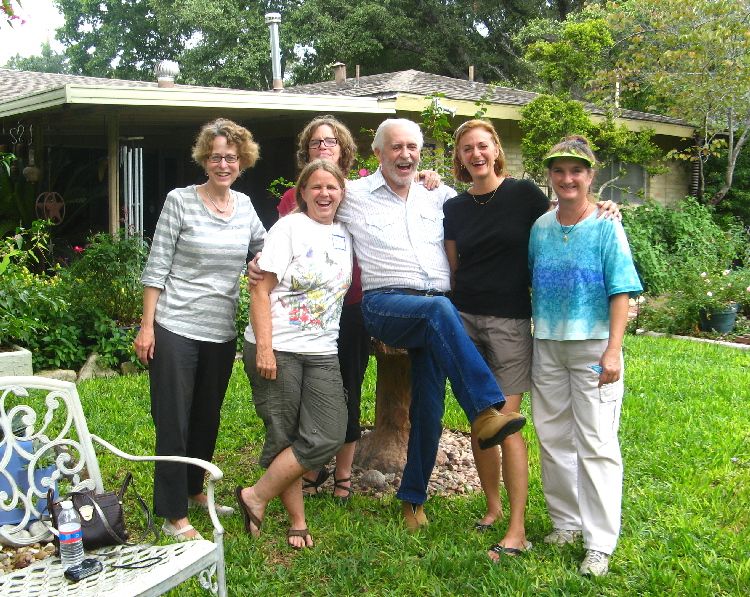 Lots of tantalizing conversation took place on the patio. I missed a lot of it while out in the yard, but Bob told me some of the stories ...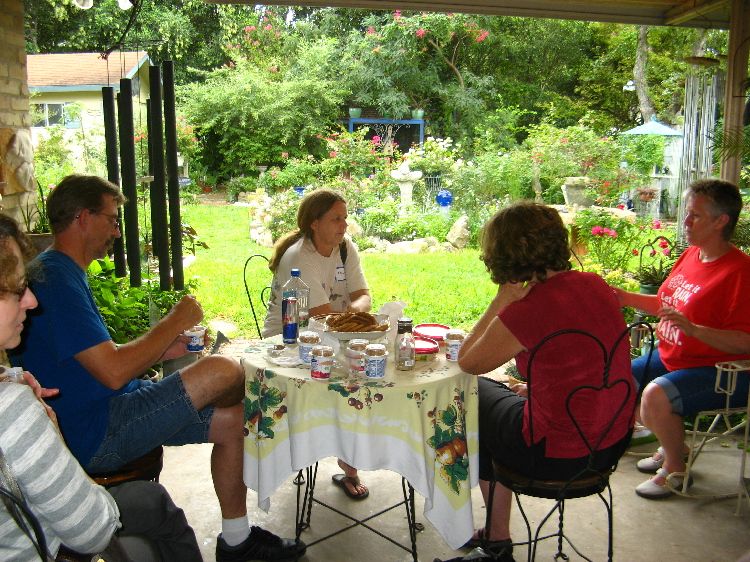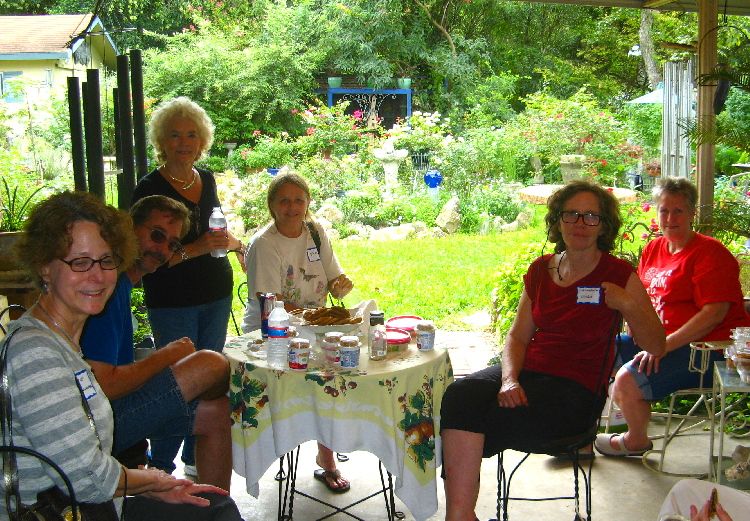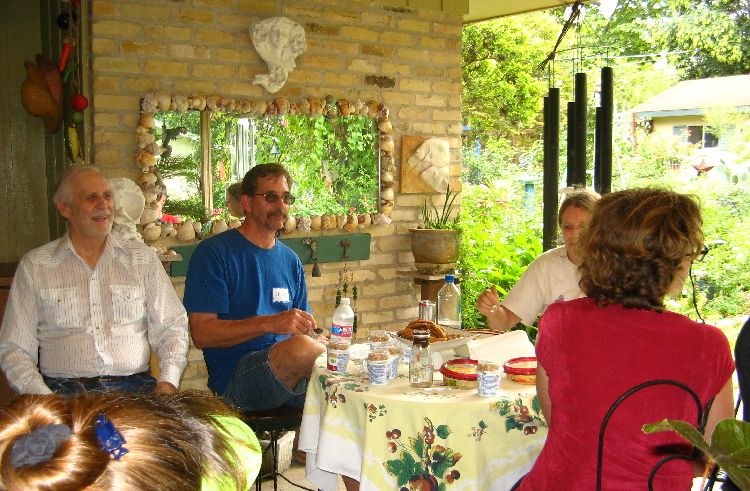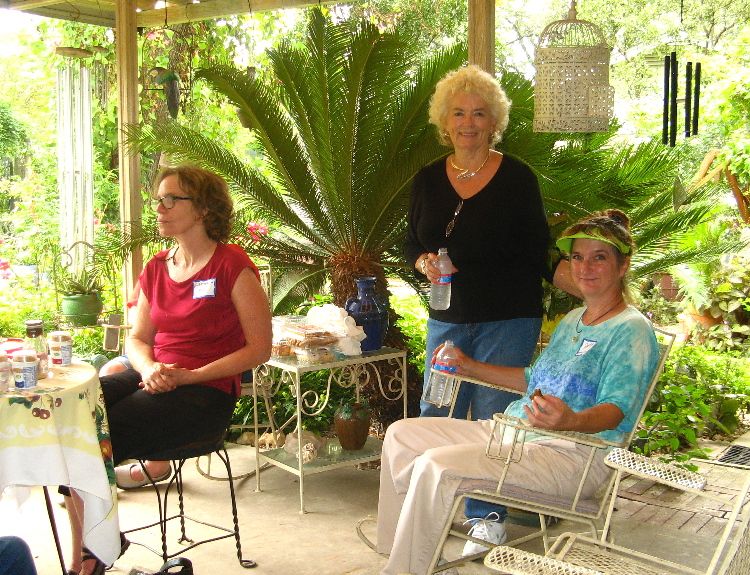 The group was fascinated by the Voodoo lily blooming near by, but when the sun came out and warmed it up we had to wrap a towel and tie a plastic bag around the bloom. If you have to ask why I know you've never 'enjoyed' the aroma.
P.S. the flower is very exotic, but the plant is really grown for the foliage which had already died back ...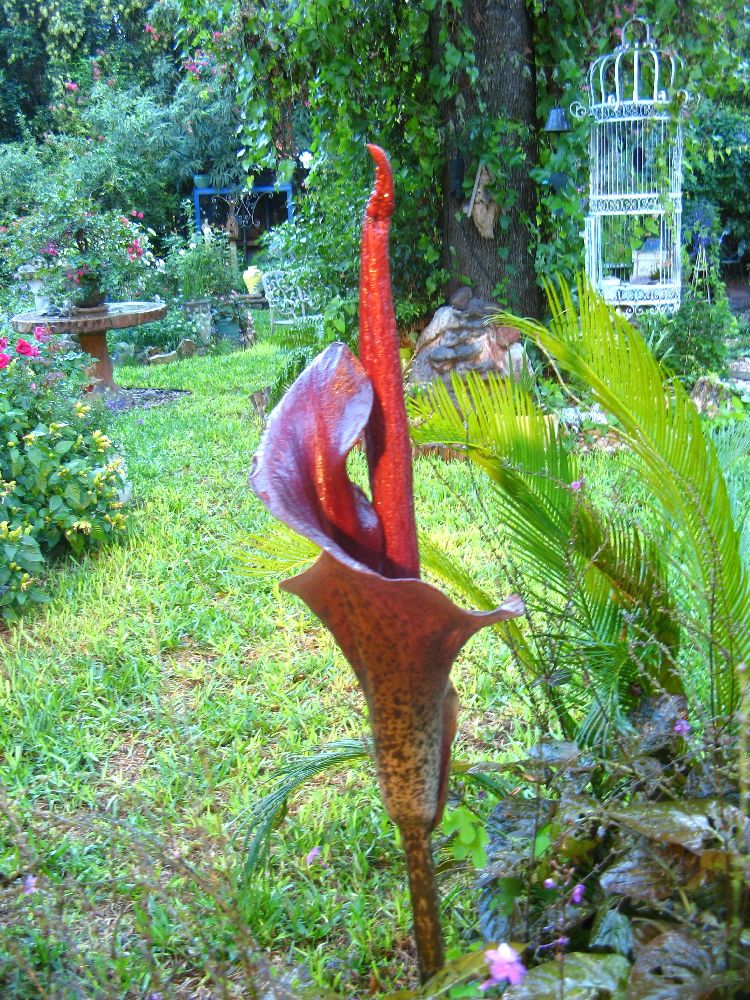 Here's something that may sweeten the memory; Pat Austin rose ...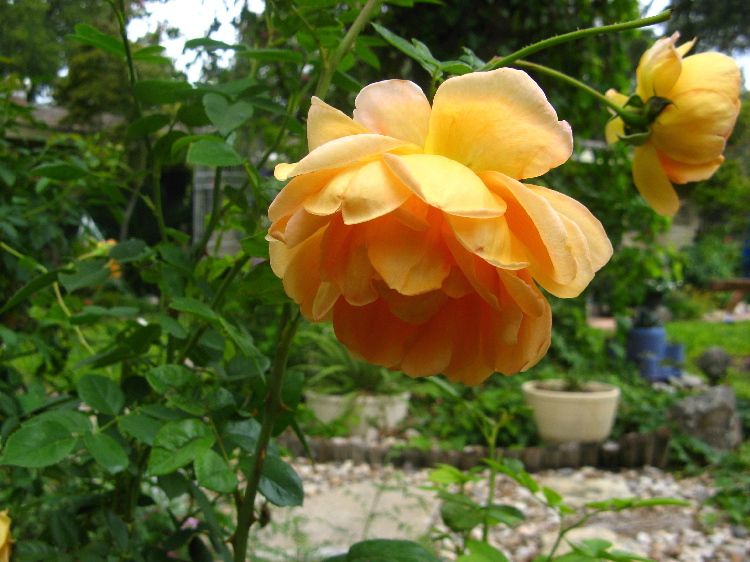 One of my turtles showed up for all to see and then a visitor dropped in to join the turtle herd, but from where I don't know. Hi there new blue guy -- you're cute!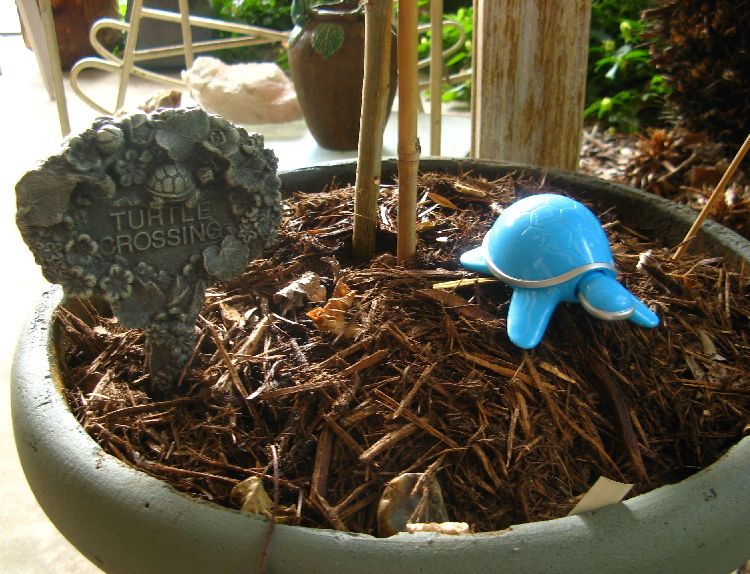 Thank you all for coming to the swap and to visit my garden. We all dearly LOVE our new plants. Many thanks to those who let me have some things even though I didn't feel it was wise to pass along many plants from my yard until we figure out what's going to happen with the chilli thrips. My garden might be taking a new direction towards succulents, palms, ornamental grasses, agaves, aloes, etc., but if we have a cold winter then maybe not.
Whatever, it's on to the next great adventure in life and gardening!