What do you know about boron deficiency?
anney
(Georgia 8)
May 20, 2009
I'm not going to ask for a sure diagnosis, but one of my Cuostralees is definitely ailing. So I'm just asking about this one possibility, a boron deficiency.
It started with the leaves on the upper part of the plant developing purple spots that eventually covered almost the entire leaf, and the top of the plant just stopped growing. Now the purple is becoming brown and dessicated, even though the older leaves on the lower part of the plant are large and healthy.
It's right beside another Cuostralee that's growing like mad. It's very confusing. If the healthy Cuostralee doesn't develop the same symptoms, and it absolutely hasn't so far, I don't see how it could be a boron deficiency since they're so close together. And absolutely no herbicides have been used around the plants or on the property at all, so it isn't that either.
I read that heavy rains can cause a nutrient imbalance resulting in a boron deficiency, and a boron deficiency symptom is a "flat-topped" plant and purple or yellow leaves that dessicate. Since we've certainly had a lot of rain like most places in the East, I wonder if that's what it is.
I can't find any other problem description of tomato leaves that has symptoms similar to what's on this plant. And I've never been able to identify plant problems very well anyway, even with the clearest descriptions.
Does anyone know of any other plant condition that has these symptoms? Small purple leaves on the top becoming dessicated and stunted growth?
While I'm sure it won't help much, here's a picture of the two plants. The affected one is the short paler green growth to the right of the taller greener tomato plant behind it.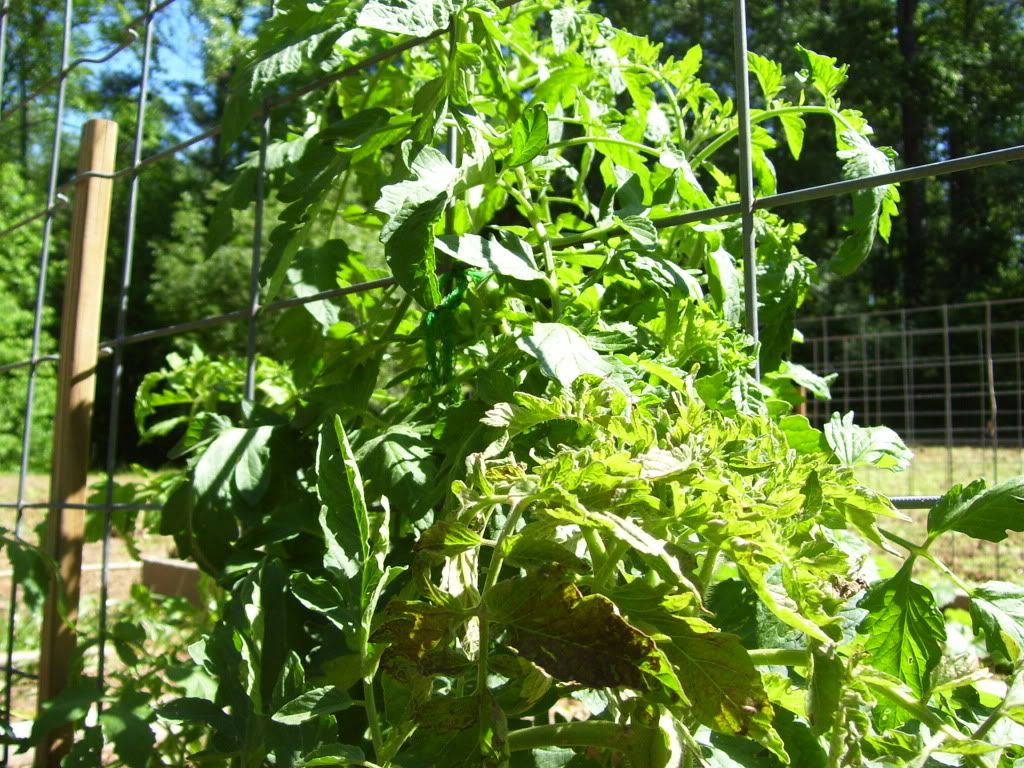 Just yesterday I took a sucker from the other Cuostralee to root because it sure looks like I'm going to have to replace that plant.
Any ideas to keep me from going nuts trying to identify this problem?