Results are in! 75 worms 6 months later.
marauder01
February 26, 2010
Hi all,
Well as promised I have sorted my BIN 1 exactly 6 months on from when I started it, and this is what I found: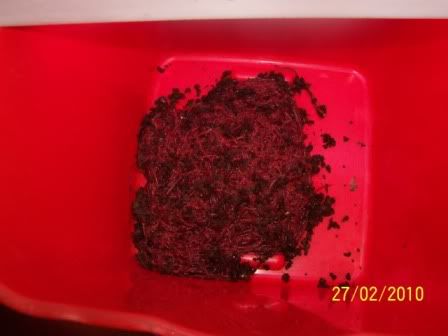 The weight was 422gms (or 14.9 oz). Almost a pound!
After the first 200 or so, I realised just how futile it would be to actually do a head count. There are so many babies, adolescents and adult that it would be near on impossible. Sorry about that. I didn't really think that there would be so many.
Bucket weighed 268 gms.
Above is the bin with all the castings / bedding returned to it. I did find that it was majorly wet. It still smelled quite OK, but it must have been close to the limit. I did find it interesting that there were more cocoons and young down in the wetter parts of the bin. THIS BIN HAD NO HOLES IN IT AT ALL, just a non-sealing lid. I have added LOTS of dry cardboard and shredded newspaper to the bedding as I have returned it to the bin. I'm not giving up on the non-holed bin just yet!
And now the big finale....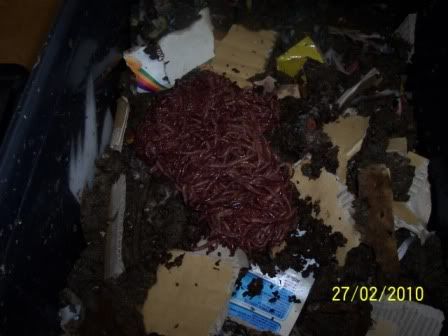 Back to work you guys!
Some other interesting things along the way:
-I have fed this bin only 10 times in 6 months. Initially only a cup every 2 weeks and now approx 3 cups a week.
-I add DRY cardboard and newspaper only when is looks a little wet.
-The best change I saw in the bin was when I went away for 2 weeks and ignored them. This really gave them a chance to work things over, and the light grey castings look great (all that paper).
-My worm calculator is very close to correct. It predicted just over a pound of worms, and the actual was close. I didn't get all the worms when I harvested, but then again, I didn't quite get all the bedding out of the worms either.
Bin 1 can just about be given to a new home (I'm hoping to give it to the local kindergarten. I think the 3 and 4 yr olds would get a blast out of it, and I could rotate their bin with my others at intervals, just to keep things working nicely). Yup, I like that idea!
Bins 2 and 3 are 2 and 3 months behind this one respectively, and bins 4,5,6,7 and 8 are about 2 months behind that again. All doing well.
If this is the kind of result I can look forward to from the other bins, I'm pretty stoked!
Now I just have to nail down the holes or no holes deal........
Cheers!