Durian cupcakes
red_sea_me
December 21, 2010
Today I baked some durian cupcakes for Christmas gifts. I used a frozen durian and baked them into mason jars so I can seal them with lids and give them out. Once the jars are properly sealed they last up to a year. I used a recipe from a gentleman's blog, supposedly it is good for chempedak too.
here is the original recipe
http://www.foodlovers.co.nz/blog/when-the-durian-are-down-the-sarongs-are-up.html
I made a few slight modifications by adding 1/4tsp. salt and 1/2tsp. vanilla extract since I am unable to add the pandanus cream. Though weighing is the most accurate way to go with baking and grams are more accurate than oz. here is a rough conversion. I did use a scale for mine. Try to have everything at room temp too.
3 eggs
170g durian flesh (forgot to write down conversion amount)
1 1/4C. AP flour
12Tbs. butter
3/4C. sugar
2 tsp. baking soda
2 Tbl. coconut cream
1/4 tsp. salt
1/2 tsp. vanilla extract.
To start I pressed the durian flesh through a mesh screen to remove any fibers.
Using a mixer, cream the sugar and butter, then add eggs, then add durian flesh mixing between additions. Scrape the sides of the bowl and add remaining ingredients.
I used 1/2 pint mason jars that were sprayed with nonstick and filled 1/2 way with batter. The conversion in oven temp comes out to 356F but since I was using glass and they were small I set mine about 330F +/-. I set the 1/2 filled jars directly on the oven rack and baked for about 25-30 mins. Check them with a toothpick do not underbake. During this whole time I had a pan of water with the mason jar lids gently simmering on the stove. When I removed the hot jars I place the lids on top and tightened the band. I placed these on a wire rack to cool and hear the 'pop' of the sealing lids. The jars will show condensation at first but if you let them sit for a week the moisture will reabsorb into the cake making them very moist. If the lid does not seal eat within a day or two, if there is mold when you open it, dont eat it.
I did have one not seal so I'll try it tomorrow.
-Ethan
whole frozen mornthong durian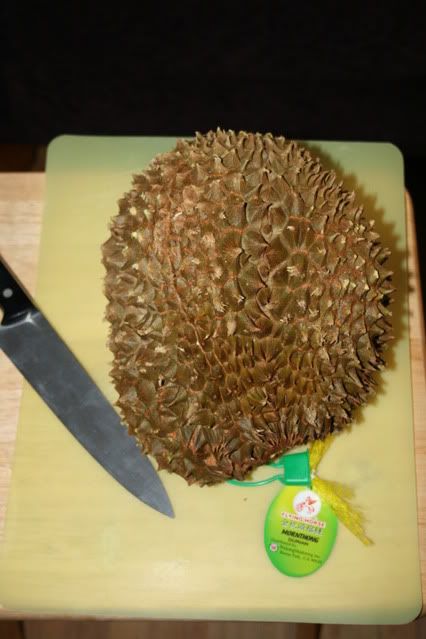 cut open, still kinda frozen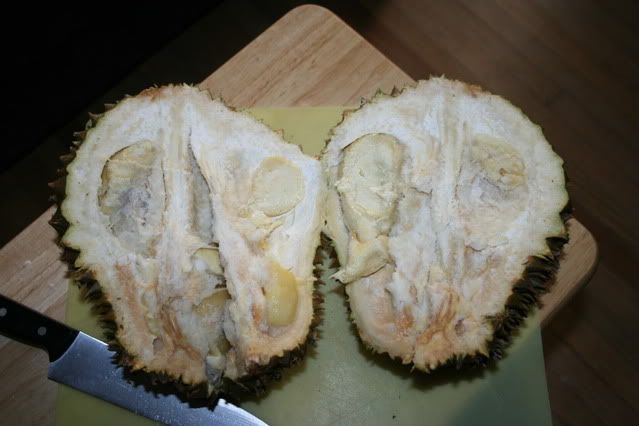 nice sized chunks of flesh some with ice crystals
finished product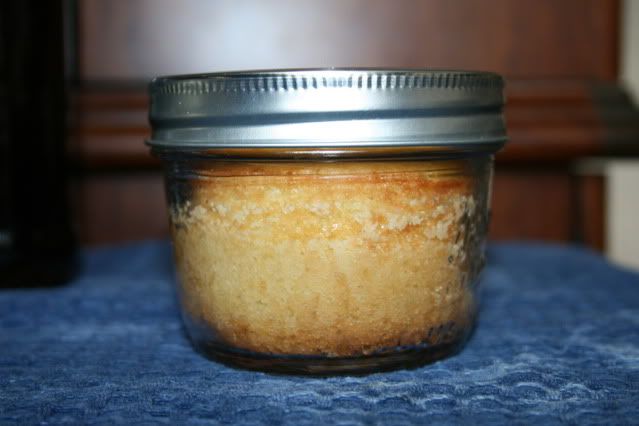 some of the gifts for Christmas
back row L to R: home brewed beer, orange cream ale, nutmeg brown and doppio malto plus some pickled green beans.
front row L to R: home grown Tropic pink guava jelly, home grown dwarf Namwah banana nut bread and durian cupcake.
Merry Christmas all,
-Ethan