Worm Inn Question
Hi everyone,
I have a question about my Worm Inn - do you think I'm adding too much cardboard bedding? Or is there something else I can do to speed up the decomposition of the cardboard? I can try ripping it into smaller pieces in the future, I know, but how about the cardboard that's already in the Inn?
I've attached a photo that shows the state of my Inn, and it's consistent all the way to the bottom. I've had the Inn operating for about 3-4 months now, so I thought the bottom layer should be ready to harvest. When I tried pulling some compost out this morning, a lot of cardboard was still coming out and a couple of worms were hanging out near the very bottom. I opened it up and rummaged around to find that the bigger pieces of cardboard can still be found throughout the whole system.
I feed the worms about once every 2 weeks and add a little bit of water nearly every day because the air is quite dry where I live. I freeze the food scraps, then blend them into a "worm smoothie," as I like to call it, so that the food decomposes faster and provides less temptation to gnats and fruit flies. (I dealt with a huge infestation of fungus gnats a couple of years ago when I tried composting with RM bins...this is why I've switched to the Worm Inn and have become quite paranoid about keeping unwanted flying pests out of the worm bin! So far, so good...the Worm Inn is performing wonderfully in that respect.) After spreading the "smoothie" out over the top layer of the Inn, I cover the smoothie with another layer of cardboard to prevent pests from smelling it and trying to find their way in the zipper. This method has been 100% successful in keeping pests out of the Inn, but I wonder how to get the cardboard broken down so that I can begin harvesting compost for the garden.
The worms seem quite happy. They are breeding (a close-up picture with a cocoon can be seen here: http://www.weebly.com/uploads/8/2/6/6/8266693/918741.jpg?526) and producing castings. The smell in the Inn is good - earthy with a slightly sweet smell from the decomposing "smoothies." I just want to get some more developed compost out :)
Any tips or suggestions would be greatly appreciated!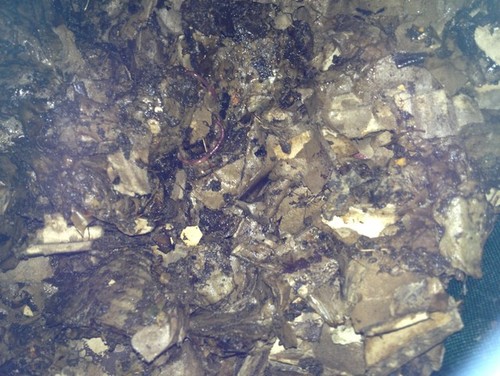 Here is a link that might be useful: Close Up Photo