What to do for groundcover in bed near a pool? Please help!
glitter_and_guns
(7)
February 16, 2014
I am slowly plodding along in reclaiming the much neglected yard that I bought, but I need some more advice. I have a pool with a retaining wall behind it and a berm above that. I am tackling that as my "fix this area" project for the start of the season. My plan is to section off most of the area along the retaining wall to about a 4ish foot depth and make it all a big bed. Some decorative shrubs (thinking sages) maybe a dwarf tree somewhere. Not much in the line of blooms, mostly texture and color. I need advice about what to do for ground cover. I initially thought I would stone the whole area, but it is really going to be more than I want to spend and is going to be harsher looking than I want. Then I thought about mulch, but I am convinced that it will blow into my pool and make a disaster. I looked at rubber mulch but the cost is pushing me to look something else.
So I am thinking some kind of ground cover. My experience is with Ohio ground cover and it won't help me here. Any ideas for something that will tolerate lots of sun, once established won't need to be watered/babied, bonus points if snakes don't want to live in it. I would like something that will grow quickly. I don't want to be looking at a mess for 3 years waiting for it to come in.
I am attaching some pictures so you can see. I am open for all suggestions. Pool remodel is coming in a few months, so that part will look better. Hopefully I will get the rest of the privacy fencing up before the end of this year.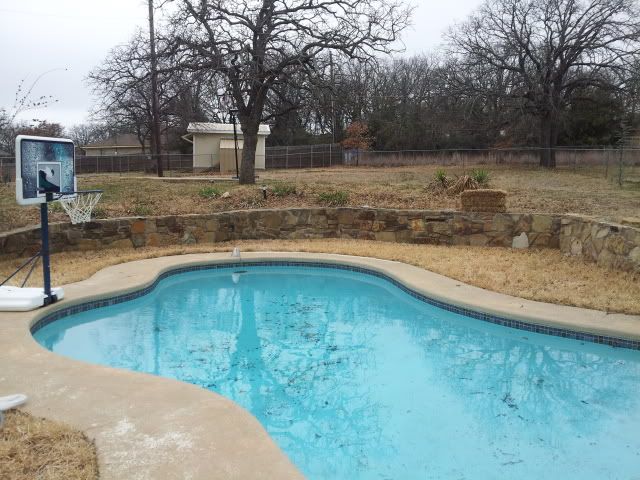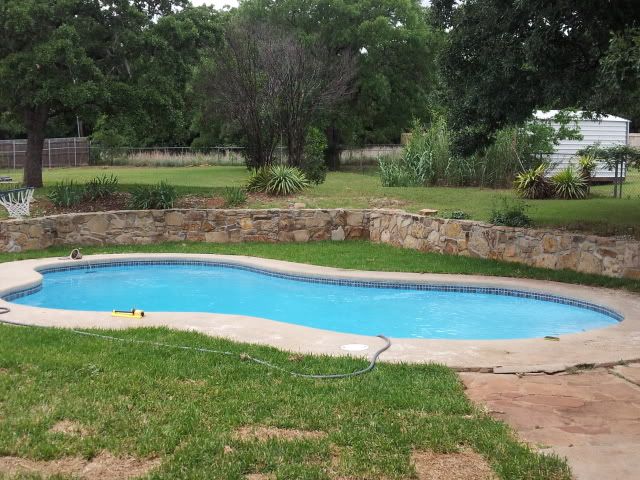 And one of the area with green grass - a lot of the random past their prime plants have been removed.
Thank you all so much for any suggestion!
This post was edited by glitter_and_guns on Sun, Feb 16, 14 at 14:01