Bird's nest worm bin
PaulNS
(NS zone 6a)
May 15, 2005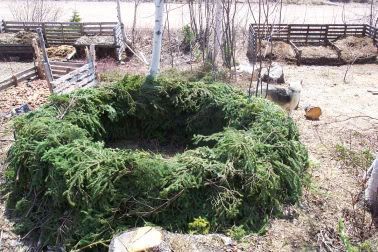 I wanted to show you this bin because it unexpectedly turned into a worm bin (don't they all though, lol).
My wife made it last summer after reading on the internet about a 'bird's nest bin' composter - you fashion brush, sticks, old garden stalks etc. into a circle and fill it with your compost materials. The idea is that the walls will eventually compost as well. I'd been cutting spruce trees at the time. Using the boughs to make the bin seemed like a good alternative to burning them. DW sort of wove them into each other to make this surprisingly sturdy wreath about ten feet in diameter.
Realizing this compost wouldn't be easy to work or even access we started throwing in slow-composting stuff like weeds with roots. Besides which spruce boughs are long lasting. We thought it would be a long-term project compared to the pallet bins, one we'd keep adding to, maybe even for a few years. We also threw in a few shovelsful of manure when we had some and topped it off in the fall with leaves.
By this spring the wreath was brown. Half the needles had fallen off. The material inside had reduced from two feet deep down to about ten inches. I climbed into it, dug down and found it teeming with worms, and much of the stuff already very nice castings.
So...do you think we could manage this bin as a worm bin? It would be nice to have some castings for transplanting, and to make tea with. But I don't want to waste worms on the garden or drown them. Would it work to bury kitchen scraps in one end of the pile and wait, and if so, for how long?