How to kill a creeping vine growing out of control
I have a problem that has been developing over the last several years. A vine has been crawling up a 20 foot brick wall in my garden. It has now reached the top and I am afraid that it's starting to grow down into my neighbor's yard on the other side of the wall. It is also slowly creeping to the apartment windows of other neighbors nearby (the lady on the third floor has already complained about insects).
I've tried to kill it by cutting the vines, thus separating the growth above from the roots below. But that has yielded no result.
I'm sorry but I don't know what type of vine it is (the kind that grows like crazy!). Hopefully, it can be identified from the attached photos. I like in Europe where the temperature is moderate, and in the winter the temperature doesn't fall below freezing but for only 4 weeks in the year. It does rain a lot.
So, any suggestions on how to kill it? Should I just buy a herbicide and spray all the leafs (20 feet high and a length of 10 feet)?
Any suggestions would be welcome.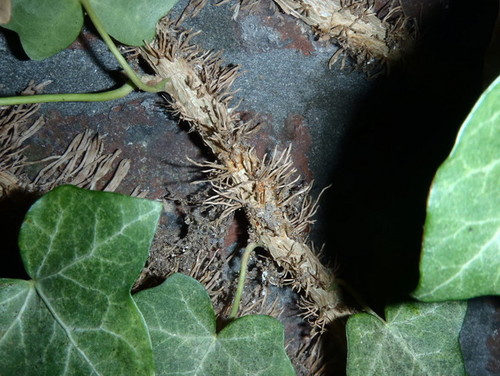 This post was edited by MegaMike on Wed, Mar 20, 13 at 14:04