Wisteria up and over?
How do I get this wisteria (on left) to grow on the thin stick we have going over to the trellis? It is growing rather bushy and in our walkway, so should I cut it back, so it grows taller and over to the trellis faster?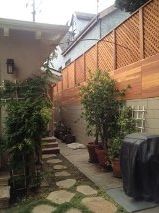 Also after the large pots on the right, in the empty space on the ground, I want to put a narrow long pot or raised bed (with bamboo?) to further cover the big blue house.... I can't plant in the ground on this side, as there is a storm drain. Any suggestions?
Thanks!