Growing Tomatoes in PNW
seysonn
(8a WA/HZ 1)
June 5, 2014
I am in WA, just north of Seattle, in Sammamish, Issaquah area.
I started my hardening off on/about March 26 and subsequently planted out starting April 4, 5 and some later. So it has been 2 months since then. It has been a long and challenging 2 months. with lows going down to as low as 38F, without any protection. Now, I have already fruits setting on my tomatoes.
What I want to share is how slow moving PNW weather is. Per attached image , this coming night our low will be 47F. No kidding here. That happens all the time. Somebody, while back provided a link in which somebody else said that night lows under 50F can seriously damage and even kill tomato plants !! Hmmm really? Come visit my tomato garden.
I also while back read a comment that a poster quoting a German gardener saying that they consider tomato plants a semi shade plants (NOT full sun). That was also interesting because I am getting about 4 -5 hours of full sun ( depending on the spots) on top of cool PNW weather.
So this is my real garden experience and story and it is not base on any fiction or opinion and speculation.
You might have totally different experience. That is just fine with me.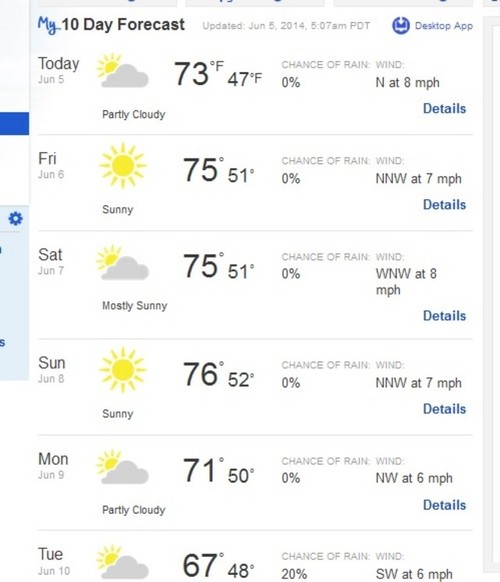 This post was edited by seysonn on Thu, Jun 5, 14 at 9:48