UPDATE: Sept ~Petal Pushers~ Shade Plant Swap-Let's Play-Part 3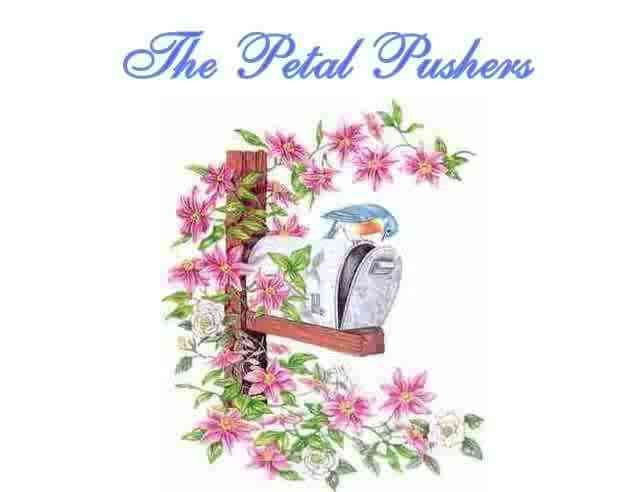 ~HOW THE GAME WILL BE PLAYED
~When you choose a box please use the box number (#)
~There will be 3 (three) rounds or whenever the last box has been chosen, which ever comes first:
*The first person, #1, chooses a box.
*The second person, #2, either chooses a box or steals
#1's box. (If #1's box is stolen they get to choose
again but they can not steal the box back.)
*The third person, #3, chooses a box or steals a box.
*The game will continue this way until the last person has chosen.
EXCEPTIONS-You may not steal back a box from the person who stole it from you.
You may steal that same box if someone else steals it from the person who stole it from you.
Once a box has been possessed by one player 3 (three) times it becomes frozen for the remainder of the game.
If anyone has questions please don't hesitate to ask...I'm new at this myself.
THE REST OF THE RULES
1. Your box must be mailed out no later than 7 days after the game is finished.
2. Boxes must be mailed Priority with a Delivery Confirmation #.
3. You must post the Delivery Confirmation # when you sent your box.
4. If you are new to Petal Pushers you must send your box first.
5. All GW rules apply.
6. You may NOT swap out/or exchange any of the 5 plants you listed as the contents of your box. If there is a serious problem contact me.
7. We all need to check the thread out daily to see when our turn comes up. If anyone is absent for 3 days in a row we'll have to continue without you. You can then choose when your turn comes up again.
HERE ARE THE #'S FOR THE PLAYERS AND BOXES
#1-ishareflowers (Lisa)
heuchera- miracle....this will be a 2 gallon pot plant
heuchera- lemon chiffon
heuchera- tiramisu
heuchera- christa
heuchera- crimson curls
#2-galium (Mariann)
Tiarella c. 'Pink Skyrocket'
Athyrium filix-femina 'Lady In Red'-Lady Fern
Heuchera 'Marmalade'
Heuchera 'Lime Rickey'
Hosta 'June'
#3-antiqueorchid (Denise)
Tiarella 'Sugar and Spice'
Heuchera 'Mocha'
Heuchera 'Caramel'
Heuchera 'Dolce Licorice'
Hydrangea 'Nigra'
#4-rosepedal (Barb)
Big daddy hosta
B. Sang red
Polemonium Stairway to heaven
Northern Maiden hair fern
Heuchera Green spice
#5-tracyvine (Tracy)
Chelone "Hot Lips" (Turtleshead)
Hydrangea "Shamrock"
Astilbe "Deutschland"
Hosta "Stiletto"
Heuchera "Havana"
#6-kalena67 (Karen)
Heuchera 'Key Lime Pie'
Heuchera 'Melting Fire'
Hosta 'Blue Ice
Hosta 'August Moon'
Hydrangea pale blue
#7-chemocurl-(Sue)
Petasites japonicus VariegataÂ
Viola Freckles
Aconitum carmichaelii-When these are trimmed back they won't look like much.
Arisaema triphyllum-Jack In The Pulpit-1 good sized corm
Ajuga Black Scallop
#8-brittneysgran (Shirley)
Tiarella-Black Snowflake
Tiarella-Pink Brushes
Astible-Fanal
Helleborus-Winter Jewels-Amber Gem
Hosta-Blue Mouse Ears (I ordered two in a co-op so I can share one)
#9-pat 6 (Pat)
Hosta 'Austin Dickinson'
Ajuga reptans 'Bronze Beauty' (Bugleweed)
Heuchera 'Mocha Mint'
Heuchera 'Peach Melba'
Luzula nivia 'Lucius' (Snowy Woodrush)
#10-gardencraze (Carmen)
Hosta "Sunhosta"
Plectranthus "Emerald Lace"
Alocasia "Hilo Bold" dwarf
Heuchera "Quilters Joy"
Peperomia "Ginny"
#11- proudgm 03 (Becky)
columbine (unknown color, small this year's WS)
hosta (big ribbed green leaf)
monarda Marshall's Delight
heuchera Palace Purple Coral Bells
dracocephalum White Dragon (about done for the year)
#12-botanybabe (Lainey)
Hosta "Revolution"
Hosta "Striptease"
Trycirtis formosanum (toad lily)
Bletilla striata (orchid)
Arisaema triphyllum corm (jack-in-the-pulpit)
#13-margaret_2007 (Margaret)
Heuchera "Balhaubur"
Heuchera "Saturn"
Hosta "Abique Drinking Gourd"
Hosta NOID Lovely small growing w/wavy pointed leaves &
beautiful lavendar flowers
Japanese Painted Fern
#14-poisondartfrog (Alana)
Muscari latifolium, 2 tone (purchased package)
Heuchera "Melting Fire" (from Garden)
Garden Hosta "Christmas Tree" (purchased)
Hydrangea "Mariesii Variegata", variegated (small plant I started this year)
Astilbe Dwarf White (from garden)