What is this vine and how do I propogate it?
GardeningHeidi
(5)
September 4, 2013
I've been looking for a good vine to grow along my fence. There's one vine that's quite popular in the area. It's got a nice green color and flourishes easily, but it's rather drab.
I've been hoping to find something better, and today I drove past a house with this beauty growing all over an arbor. I knocked on the homeowner's door, and she said that she planted a couple bushes of it in fertilizer pads several years ago and it just took off from there. She didn't remember what it was, but she let me take a clipping for identification purposes. So, four questions:
1. Does anyone know what this is?
2. How well would this grow in slightly alkaline, moderately rocky soil? (It seems like if it did well in my neighbor's yard, it would do well in mine, but you never know. Hers might only be flourishing because she spilled some peat moss there years ago and just doesn't remember it. LOL.)
3. What's the best way to propagate it?
4. Is there a better (more beautiful, fragrant, fruiting, or rapidly growing) vine that would do well along the fence-line in rocky, slightly alkaline soil? Mostly, I just want to cover my sad little chainlink fence with something beautiful s quickly as possible. The more quickly and more beautiful the better.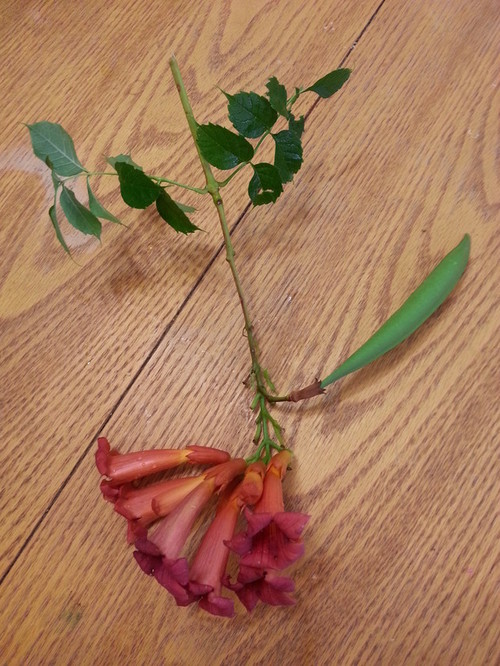 This post was edited by leggs on Wed, Sep 4, 13 at 15:24