Hellbender Bin Update
hellbender
(6)
December 7, 2012
Well, it has been 9 days since I started my OSCR Jr. bin with one pound of EF worms. The initial feeding has gone away. The worms are actively munching on the second feeding and are just getting started on the third feeding.
I pulled back the bedding to reveal what is going on with the second feeding and took a photograph which is included.
Most of the worms are congregated around the vegetable/fruit matter with very few to be located elsewhere. The worms get a very consistent diet composed of salad vegetable trimmings, banana skins and coffee grounds.
There must be a lot of worm movement close to the surface. I say this because each morning I notice raised areas on the surface of the bedding not unlike mole runs that you would find in your yard. Has anyone else noticed this?
The bin smells like damp paper. I guess I should not be surprised since that is mostly what the bin contains. I believe everything is functioning well.
HB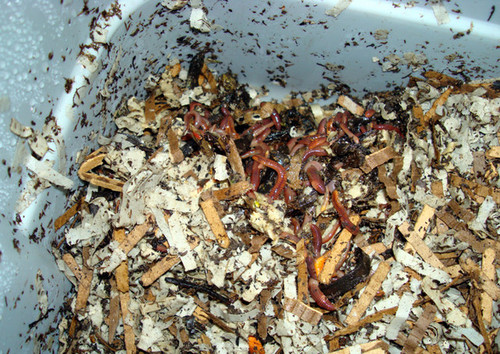 This post was edited by hellbender on Fri, Dec 7, 12 at 9:52