Cultivator Find
hellbender
(6)
December 31, 2012
For the last few weeks I have been keeping my eyes open for a worm-friendly cultivator to use when digging around in the bin. I wasn't having much luck . . . . . until today that is!
While wandering around over at the local Tractor Supply this morning, I stumbled across my very own SpongeBob SquarePants solid plastic cultivator. I thought that this quality, worm disturbing instrument might set me back a few bucks. It turns out that the public had obviously overlooked this gem for some period of time. As a result the item had been marked down to . . . . . . get this, 49 cents.
Now normally I absolutely hate to shop, but this made my day. It was the last one, too. Not to worry, if you would like your very own, they are available at Amazon (see link). It will cost you more than 49 cents though. I like the product description:
"This SpongeBob SquarePants kids cultivator makes digging around the garden easy and fun for kids. It's a great way for a child to help mom get rid of weeds or find a few worms."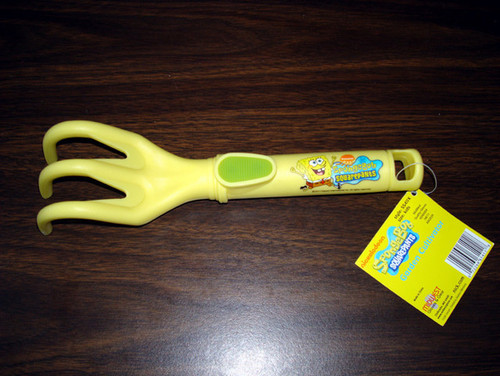 Here is a link that might be useful: SpongeBob Cultivator