NEW: The Petal Pushers are back!
sassyd
(z8/SC)
September 16, 2007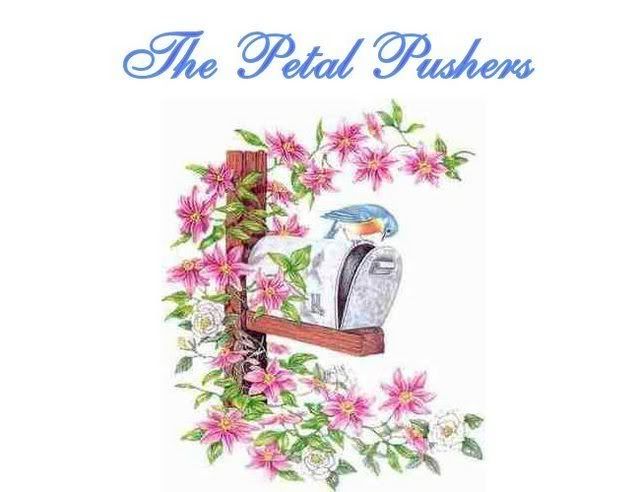 Welcome to the Petal Pushers!
This will be a monthly swap. Everyone is invited to join. I'm not adding alot of rules and regulations to this group, I want this to be a fun swap that people will want to join in and enjoy themselves. If you sign up in any given swap , you're considered a member. Now with that said, I'm not putting a number on how many swaps you have to be in, its your choice. Life happens and we can't always be involved. Alot of us girls have been around a good while and know each other but we welcome new people. I do ask that you understand, if you're new and your swap partner for that particular month does not know you, you are REQUIRED to send your box first. And we all know that we need to post when received. Very important, your partner is patiently waiting to hear from you. You should use delivery confirmation when sending, it could save your bedonkadonk! (Anyone that doesn't know what that means, email me, I'll be happy to explain! lol) I will ask for the ones that want to be more involved to host a month, just let me know what month you'd prefer. That will take alittle of the load off of me and make it lots more fun having different ideas than my little brain can come up with. When you sign up I will send out a small questionaire, not to worry, I don't need your great grand-mothers maiden name! lol (JK) Just a little info about your likes/dislikes to help your swap partners. I figured alot of you girls are already committed to Sept swaps so lets start this off in October! If I think of anything else I'll add it later, but I'm just trying to keep it simple for all of us. Hope it sounds good to you girls.
If anyone has any other ideas please email me, always open to suggestions.
Ok, for now, this is our October Halloween Spooky swap! I'll be hosting and please if you want to send plants try send something with a halloween themed name. One year I received a daylily named 'Witches Brew' and loved it! Other than that send what you want, but if you're sending decorations, etc, we want our partner to receive in time to display for the big night. You can alway just use a fall theme, but hate to pass on a holiday! Thought we may use the fall theme for Thanksgiving, but that up to whom ever wants to host, and if no one else can, I will, no problem.
Ok, lets get this party started!
Sassy