Found a cure?
stefanb8
(z7 MD)
August 20, 2005
For a number of years, I've been nursing along a patch of a lovely, double, blue sweet violet that seemed to be afflicted with a virus (cucumber mosaic perhaps, or viola mottle). Each season the leaves would develop an ugly green-spots-on-yellow-background pattern that obviously indicated the presence of the virus. The virus very likely lessened the plants' ability to thrive to some degree. I was sick over this, not wanting to entirely lose a beautiful variety which seems not to be in commerce here, yet also not wanting to accidentally infect other sweet violets. Hence the plants were somewhat quarantined away from others of their kind, but there was never any guarantee that it still might not spread.
In years with particularly harsh winters (especially when snow cover was lacking early in the season), the patch would have survival difficulties - often only a few crowns would return in the spring to rebuild the colony, and flowers would be mostly or wholly forfeit for the season. In the back of my mind I sometimes wondered if this might somehow help the plants to rid themselves of the virus, but did not seriously believe that it would. That was, until I saw this: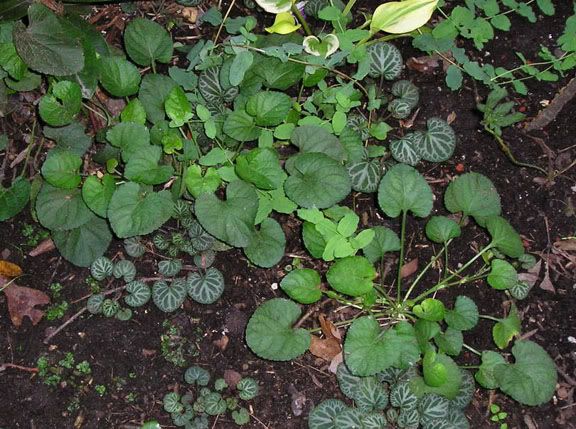 Healthy violets! (yes, my yard is being overtaken with Korean violets, which is both thrilling and frightening, as I'm sure anyone in a similar situation understands).
These several crowns that returned after another hard winter should have symptoms of the disease in the mature foliage, but clearly do not. They look marvellous. A nearby cluster of returnees (the patch was split into three separate clumps) did exhibit the tell-tale symptoms, and was therefore eliminated with the hope that these are, in fact, now free of the virus. Until time supports or refutes my theory, I will remain cautiously optimistic and let everyone know when the verdict is in, so to speak. I hope you will all share in my enthusiasm that an old variety can be rendered vigorous and healthy after a bout with a seemingly incurable disease!
Thank you,
Stefan