Sowed 1.5 mil. seeds, got mostly weeds
myrmayde
(5b Western Montana)
May 23, 2014
Hi, All,
I'm in way over my head! I've been reading through the Weeds Forum archives, because misery loves company and it makes me feel a little better to know that others are fighting the same battle. I can't try many of the good suggestions, because I need to keep soil bare in hopes that the seeds I planted there will germinate, if not this year then possibly next year.
I'm trying to create an enormous (4,000 square feet) border in my back yard to be a habitat for bees, butterflies, songbirds, and hummingbirds. I'm also trying to keep eight different color areas separate, as my design theme. There's a circular vegetable garden in the center, which is about 600 square feet.
In 2011 I got rid of the grass using Roundup, then spread about 1.5" of "soil pep" (composted Ponderosa pine) on top after it died, and then planted a mixture of cover crop seeds (red clover, mustard, buckwheat, barley, and phacelia tanacetifolia). Those seeds germinated and grew very well and died in early winter as planned. Great so far.
In 2012 I chopped down the dead cover crops and turned them into compost. Then I planted about 15,000 lupine seeds. Germination was inconsistent at first, I think due to patchy irrigation patterns, so some areas got planted twice or three or four times. The seeds eventually all came up, some a year later, so the area I planted four times is extremely dense with lupines. They look spectacular and are reseeding prolifically.
In 2013 I planted five fruit trees and plan to plant five more, plus a few other trees and many shrubs. I considered the lupines to be placeholders, kind of like the background of a painting, while I try to get a large variety of other flowers to grow. A year ago I planted 250,000 perennial flower seeds (81 different kinds), after carefully researching their germination requirements and doing cold stratification in the refrigerator for many. Almost nothing germinated except yarrow, flax, daisies, penstemons, some hollyhocks, a few delphinium, and sunflowers (my one annual).
So around the beginning of December I planted a million and a quarter perennial flower seeds, mostly native wildflowers (again 81 kinds, many different than the spring planting). I did many hours of research on every butterfly or moth ever reported in my county, and what plants they need.
This spring I was excited to see some small plants sprouting here and there, in addition to the lupine sprouts with their distinctive leaf clusters. But now they seem to be mostly tiny, individual clover plants, possibly the red clover from my cover crop, or possibly white clover from the lawn. This is in addition to the black medic, also in the lawn, and a tall, tap-rooted clover that might be yellow sweet clover.
Once I had time (I also work part-time at home), after starting vegies indoors and transplanting them, and building a couple of hoop houses covered with row cover fabric, and then redoing the cover with deer netting, I commenced the weeding.
It has taken me probably about 30 hours to go through it all once, tackling only the dandelions, with a Fiskars weed popper. It takes me extra time, because I'm throwing away every blossom and bud and saving the rest of the plant for the compost bins and piles. I wasn't able to finish before they started going to seed, so every day I remove the seed heads. From the looks of it, I need to weed for at least two hours every single day the rest of the summer to stay on top of it. That's physically possible, I suppose, but I don't want to be chained to this chore for the rest of my life. I want my flower seeds to sprout! If 10% of what I sowed had survived, I'd be overjoyed. If even 1% survived I'd consider it a limited success. I haven't even achieved that rate. It's quite disappointing.
Most of my weeds aren't on Montana's list of noxious weeds, so at least they're not noxious (ha ha)! But I hate them anyway. I think they may be inhibiting germination of my flower seeds. What can I do? My weeds are, in order of prevalence:
dandelion
black medic
prickly lettuce
grasses (crabgrass, quackgrass, some kind of fescue from the lawn, bluegrass [perennial from the lawn and/or annual])
field pennycress (or some kind of brassica with white flowers)
Canada thistle (or some kind of thistle)
clover (white, red, yellow, or all of the above?)
aspen suckers from trees on either side of my lot
lambsquarters
broadleaf plantain
meadow goatsbeard (or western salsify)
lacy phacelia (I think, a survivor from my cover crop)
tall tumblemustard
field bindweed
pineappleweed
common mullein
a few more I haven't identified yet
(The photo refuses to load right-side up, but I think it will be when you click on it.)
Thanks in advance for any advice.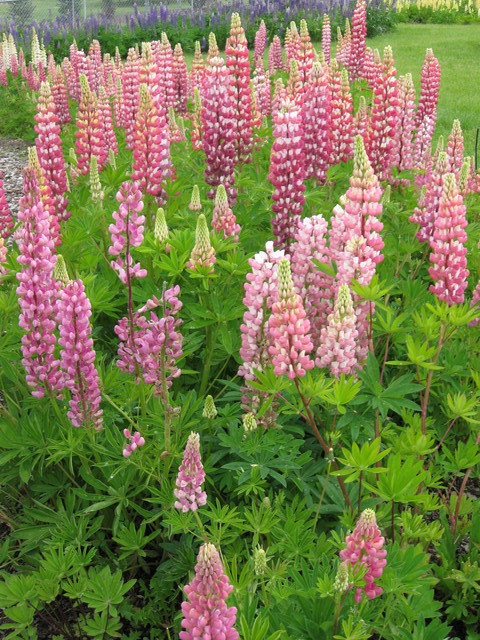 This post was edited by myrmayde on Mon, May 26, 14 at 22:12