What is it?
peaches20
(6 PA)
May 4, 2013
Hi
My garden is starting to come alive along with a host of weeds. In this picture, I planted some cone flowers in the area but am not sure they are all coneflowers. I would like help in identifying please:
Also, Is this picture below an actual flowering plant and if so does any one know its name.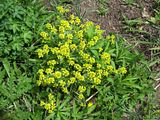 Any help muchly appreciated.
Nancy