I'm on my way!
terryr
(z5a IL)
April 11, 2006
Last Fri we went to a nursery that specializes in native trees, shrubs and perennials. They didn't have the perennials out yet, but I got some trees and shrubs. We've been outside working hard getting the privet out. We've got almost all of it out now, maybe a dozen more to go. We came out about 6 ft more (from the front of the privet) and removed all the sod. Then I planted in the back side yard, an Ostrya virginiana. Then along where the privet came out, I've planted, Sambucus, Corylus americana, Ilex verticillata, Hamamelis virginiana, Viburnum dentatum and Viburnum cassinoides. In the front yard, we took out a smallish crimson maple and replaced it with a Catalpa speciosa. In among the plants already in that bed (that winds all the way to the back where the privet was removed and the new plants are), I also planted Lonicera prolifera. We removed a lilac on the other side of the yard, and I bought Carpinus caroliniana for that spot. I still have more sambucus, Cornus racemosa, Lindera benzoin, Aesculus parviflora and 1 more V. dentatum. I've got a really little (grown from seed), Taxodium distichum, where I've yet to decide where a good spot is. I moved a Aesculus pavia from it's temporary spot out back to the front, beside the house. My yard is little, but I really want to pack it all in. I'm so excited and I can see what it will be someday, hopefully not too long! I go to a native plant sale on May 6th to pick up the perennials I ordered. I'm making a prairie type area out back, with just wildflowers and grasses in it.
Here's the privet we've almost got removed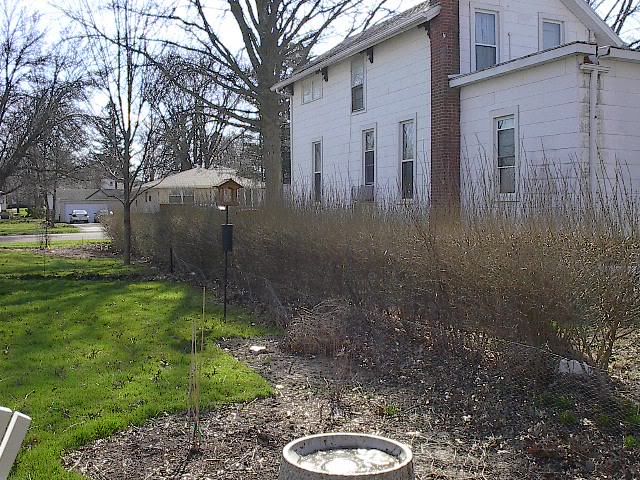 and all the grass from where you see mulch on the bottom part of the photo all the way up to the bed in front, is the grass that's all been removed. There's still a strip of grass left, had to compromise with my husband!
So anyway, I'm really psyched about all that we've done and all that we still have to do, and I wanted to share with you all!
Terry