Anybody grow Palo verde 'desert museum' tree?
roselee z8b S.W. Texas
May 17, 2014
I'm looking for a small tree to plant in calichi type soil. A Catawba crape myrtle was planted in the spot last spring. It's very chlorotic. None of my mature crape myrtles are looking very good; all have reddish pale leaves. Whether it's from the cold, drought, soil or what I don't know, but this one is the worst in spite of my best efforts at fertilization and definitley has to go.
The Polo verde 'desert museum' is appealing for it's green bark, but it may not like calciferous soil either. If you have experience with it, or have suggestions for a smallish ornamentral tree it will be appreciated.
It's the little stunted bushy thing in the foreground that I'm talking about.
Edit: Also looking at a totally different type of plant: rusty blackhaw viburnum. Any thoughts on that one?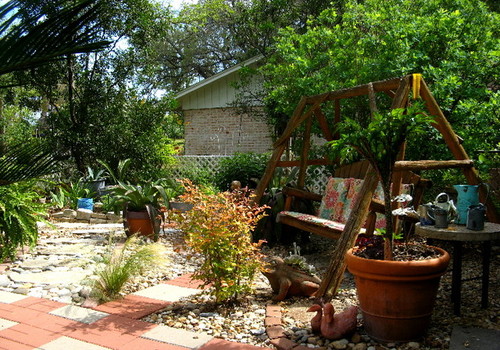 Here is a link that might be useful: Palo verde 'desert museum' trees ...
This post was edited by roselee on Sat, May 17, 14 at 18:21