Herbicide damage?
robhan
(8/PNW)
July 17, 2014
My neighbor sprayed Weed B Gon last week on a windy day - I could smell it pretty strong standing in my garden. Now a few of my tomato plants are showing odd signs. I'm not sure if this is herbicide damage, or related to a poor watering regimen.
The plants were already stressed - I found out from a recent post that I had been watering too frequently and not deeply enough. The plants were already showing curling leaves and some BER, and this was before my neighbor sprayed.
The pictures are of different leaf branches of a Sungold plant. The branches are in the top 1/3 of the plant. Sorry for the poor quality.
Can anyone say definitively that this is herbicide damage? Or is it just another symptom of poor watering?
Thanks!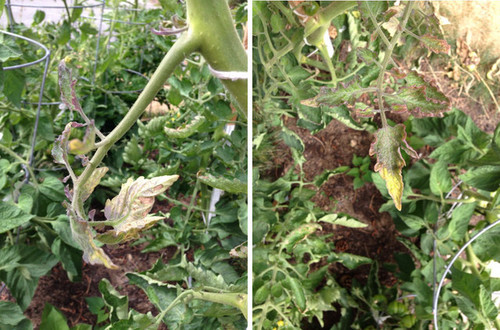 This post was edited by robhan on Thu, Jul 17, 14 at 18:39