"Bleached" splotches on my tomato plant's leaves
Hello everyone!
My name is Jay and I am a brand new member of this forum. I decided to join while trying to search for information about the issues that I am having with my tomato plant.
Let me start by saying that I am a complete novice when it comes to gardening but want to learn more and become more knowledgeable. As is probably the case with many (if not most) people who join different kinds of forums, they (and I) find myself here because of an issue that I need help with.
I have attached a photo (and can provide more if asked) of my tomato plant that I just bought Saturday, from Home Depot. When I first brought it home, it looked perfectly normal but by yesterday I noticed that the leaves look almost like they have been "bleached", and it is definitely worse and more noticeable today than it was yesterday.
The soil seems to be moist, so I don't think that I have under watered it. I tried to do a google search but could not come up with anything that seemed to be exactly what I am having an issue with. Any and all help will be greatly appreciated.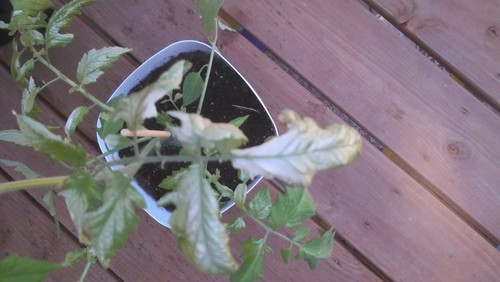 This post was edited by jay_power on Mon, Jul 8, 13 at 17:02