Our Bloomin Friends December Christmas Swap
earthlydelights
(6 pushing 7)
November 20, 2006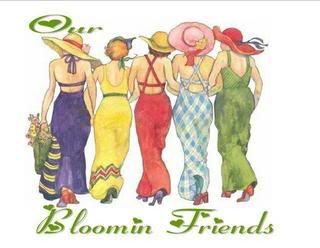 oOoOoOoOoOoOoOoOoOoOoOoOoOoOoOoOoOoOoOoOoOoOoOoOoOoOoOoOoOo
To become a member of this wonderful Bloomin Friends group, you need to have been a member in good standing of Gardenweb for at least six months and have had successful trade(s) with member(s) of this group.
oOoOoOoOoOoOoOoOoOoOoOoOoOoOoOoOoOoOoOoOoOoOoOoOoOoOoOoOoOo
Bloomin Friends December/Christmas Swap
First, I want to take the time to tell you all what a pleasure it has been this year to be a part of such a wonderful group; strengthening the bonds with those I already know; developing new relationships, and my most favorite of all -- meeting one of you!!!! I am certainly putting on my wish list the opportunity to meet a few more of you in this coming year! It's a good feeling to be a part of one of the most generous and nicest groups of people and I look forward to another great year ahead of us. That being said, let's move on to our December Swap.
I'll make this a simple one rule swap ~~ that is there is no rule. No stipulation as to how many items or specific items to be sent, just send a box that speaks from your heart, conveys the meaning of the season and represents true Christmas spirit. We are all experienced, generous and giving traders, we all have each others' lists to go by and have been listening to each other chat as to likes and dislikes these past 7+ months. Choices are endless - ornament, homemade items, decorations, something specific your partner collects or just a bit of this and that. Wrap it up all pretty and send it on its way and DON'T FORGET A CARD!
Boxes should be sent out no later than the 18th since this is an extremely busy time of year for the post office and it is a good practice to use confirmation number. I'll take sign-ups until December 1st and then assign partners on the third. Let's make the last swap of 2006 as great as all the others have been so far.
Maryanne/Earthly P.S. remember to post whether you are playing or not as it is easier to keep track.