It's Time for the ORANGE Seed Swap!!!
cybermeowz
(4 - ND)
November 19, 2009
Let me introduce Little Dude. He was a stray but is now the newest member of our family. Isn't he cute? He will be my co-host for the ORANGE seed swap!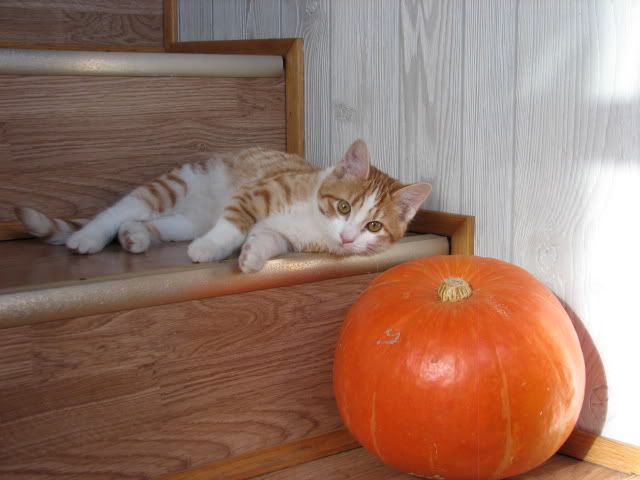 This is the November color swap, featuring the color ORANGE!
It seems as though the Color of the Month Seed Swaps that we had going for most of the year have sort of fallen apart. I believe both the white and pink seeds swaps didn't happen. (If I missed them, please let me know.) But I am going to try to revive them!!!! The color I signed up for was ORANGE and there are certainly a lot of ORANGE seeds, both veggies and flowers. Beyond pumpkins and carrots, for veggies there are tons of tasty ORANGE squashes, melons, watermelons, tomatoes, peppers, eggplants and dried beans. There are even some ORANGE cauliflowers (Cheddar), greens (Orange Chard), and cucumbers (Hmong Red)! I am sure there are a lot of other ORANGE edibles that I'm not remembering or have never heard of. There are also an enormous number of ORANGE flowers and ornamentals. Just a few off the top of my head . . . Sunflowers, poppies, calendulas, coleus, Chinese lanterns, gazanias, nasturtiums, celosias and of course marigolds and zinnias. The list could go on and on. Feel free to post ORANGE seed ideas in the comments.
Hopefully, we can revive these color themed swaps. Here is the original schedule as posted in the original purple seed swap thread:
April : Dan : Blue
May : Christy : Black
June: Bonnie : Yellow
July : Tammy : Red
August : Linda : Rainbow
September : Kamil : White
October : Nichol : Pink
November : Penny : Orange
December : Carrie : Chocolate
January : Wendy : Green
After this swap, there is the Chocolate and Green seed swaps. Does anyone know Carrie or Wendy and if they are still active on GardenWeb? Maybe Carrie and Wendy will post in the comments so we know if they are still interested in hosting these swaps. Also, if someone would like to host either the white or pink swaps that were missed (if I am mistaken about this, please let me know), let us know in the comments.
Okay on to the rules for the ORANGE seed swap:
You may include seeds that contain anything ORANGE, whether it is a flower, foliage, fruit, vegetable, herb, or whatever is related to ORANGE or simply just has the word 'ORANGE' in its name!
You may send edible and non-edible seeds.
(Please specify what you would like back: edible, non-edibles, or a mix of both)
I will do my best to fill your request, but it all depends on what is sent in!
Absolutely NO Invasive Plants or Noxious Weeds!!!!
Please send seeds no older than 2 years old.
Please include on the packet label: the seed's name, a little blurb about it, and whether your seeds are from a commercial source or hand-collected.
The limit for all of the color swaps has been 10 packs so far. But please feel free to send in extras.
I will try to send back extras to the people who sent in extras to be fair.
You can send in as little as 1 pack of seeds, there is no minimum to send in.
Please send in the number of seeds that you would be comfortable recieving yourself depending on the variety. There should be a minimum of 10 seeds per pack.
Please send only 1 pack per variety. Again, you may send more than one pack of a certain variety, but please know that they will be counted as 'extras'. So each variety will be counted as one trade.
Signup Deadline: December 4th
Seeds Need to Arrive by: December 16th
Mailed back by: December 19th (Hopefully! I will try to get these out before Christmas.)
After you sign up in the comments,
please send me an e-mail with your
name,
address,
GardenWeb name, and
e-mail address.
And I will reply back to you with my mailing address.
REMEMBER to use a bubble envelope (which will be used to mail back your new seeds) and include the following along with your seeds:
1. Mailing label with your address on it
2. Stamps equal to what you used to mail plus one extra in case an extra stamp is needed (if the extra stamp is not needed, I will put it in your return envelope)
3. Paper with your GardenWeb name, e-mail address and a list of what you sent in (so you don't get those seeds back)
Any questions, feel free to ask!
Your Hostess and Host,
Penny (aka cybermeowz) and Little Dude :)
Here is a link that might be useful: For Reference: The Original Purple Seed Swap Thread